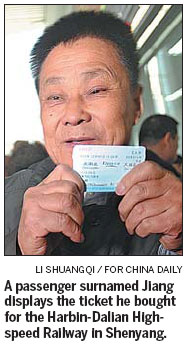 A new high-speed railway linking China's major northeastern cities of Harbin and Dalian will begin operation on Saturday, with experts predicting the 98 billion yuan ($15.7 billion) infrastructure investment could accelerate social and economic cooperation right across northeast Asia.
The 921 km route, with 24 stops, is the world's first high-speed, high-altitude rail line, and has been designed to withstand extreme temperatures, according to the Shenyang Railway Bureau.
The high-speed link is expected to reduce the travel time between Harbin and Dalian to four hours, from the current 10 hours.