Nation views low-carbon rules as powerful way to gain competitive edge
The booming green orientation in the global economy, including the trade in environmental goods and carbon tariffs and certification advocated by developed economies, has begun to take an increasing toll on China's foreign trade, a senior official said.
Meanwhile, boosting the green sector at home has become an important step for China to develop a new competitive edge in foreign trade and is in accordance with the country's restructuring of its economic growth model as underscored in the 12th Five Year Plan (2011-15).
"Low-carbon development is now having a more obvious influence on China's foreign trade," Wang Shouwen, director of the foreign trade department of the Ministry of Commerce, told a seminar during the China International Green Innovative Products & Technologies Show 2012, held earlier this month in Guangzhou.
"Developed economies such as the EU and the US have actively promoted carbon tariffs and carbon certification, having an increasing potential effect on Chinese exports. In addition to the trade policies of developed economies, business activities of transnational companies will affect Chinese foreign trade as they now prefer low-carbon products in their procurement," Wang said.
Though the US Congress did not pass the American Clean Energy and Security Act of 2009, it could become law in the future and entitle the government to impose carbon tariffs on Chinese exports beginning in 2020, according to Wang. It would affect Chinese exports in 46 industries including steel and nonferrous metals.
EU Climate Action Commissioner Connie Hedegaard announced the suspension of the enforcement of the EU Emission Trading Scheme on all international flights to and from the EU until September 2013 to give the International Civil Aviation Organization time to find a global solution to aviation emissions.
"If China paid that tariff, it would add 2,000 yuan ($321) in transportation costs to each ton of cargo and lower the profit of export businesses by about 2 percent," Wang said.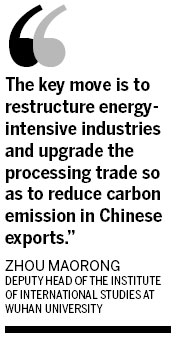 In 2010, Chinese exports to the EU totaled $311.24 billion, and 17.31 percent were carried by aircraft.
Zhou Maorong, deputy head of the Institute of International studies at Wuhan University, said that "the EU's strategy of seeking carbon tariffs from a specific industry will create a heavier burden to Chinese foreign trade than moves by other developed economies".
"If the EU were to impose tariffs on aviation, and emission reduction into ocean transportation industries, this would surely have a great impact on Chinese exports, as Chinese exports through ocean shipping account for one-fifth of the world's total," Zhou said.
However as rising costs of labor and land, and the appreciation of the yuan weakens the traditional advantages of Chinese foreign trade, the promotion of the green sector can also serve as the driving force for the country's trade to develop a new competitive edge, Wang said.
"In the next step, the ministry will closely watch and analyze the developed economies' trade policies regarding the green economy and low carbon," Wang said.
Yao Weiqun, associate president of Shanghai WTO Affairs Consultation Center, said China needs to enhance technological innovation to increase added value in environmental goods while importing advanced technologies to boost green sectors.
The Asia-Pacific Economic Cooperation 2012 summit, held in the eastern Russian city of Vladivostok in September, saw leaders agree on a list of 54 green technologies that will be subject to import duties of 5 percent or less by 2015, which "brings new opportunities for Chinese exporters amid challenging global trade", according to Commerce Minister Chen Deming.
Central and local governments have been making more of an effort to develop green sectors and boost industrial upgrading. The Ministry of Industry and Information Technology signed a cooperation agreement with the government of Guangdong province on Nov 14 to advance the green development of the province's manufacturing.
The agreement includes the establishment of new industrial parks regarding resource comprehensive utilization, re-manufacturing, energy saving and environmental-protection equipment, and building up a group of clean production enterprises through cooperation with Hong Kong as well as talent training in a circular economy.
Zhou, from Wuhan University, remained more cautious about green economy trade measures in developed economies, as China is at the crucial stage of industrialization and urbanization, and carbon emissions will keep growing in the near future.
"We can only agree to reduce carbon emissions in relative terms, and carbon-emission reduction in absolute terms will hurt Chinese industries," Zhou said.
"The key move is to restructure energy-intensive industries and upgrade the processing trade so as to reduce carbon emission in Chinese exports. A fund should also be set up to promote low carbon in China's foreign trade," he said.
lijiabao@chinadaily.com.cn
(China Daily 11/24/2012 page10)