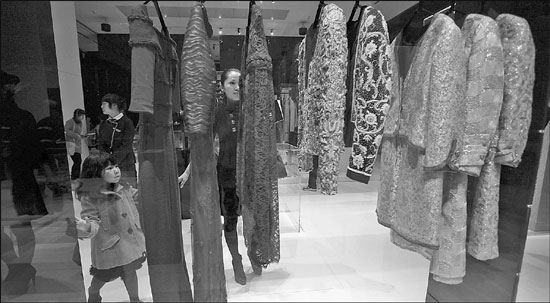 A customer at a Chanel shop in Beijing. Chinese people spend billions of yuan on luxury products annually but most of their purchases are made when they travel overseas. Experts suggest the government should encourage imports of more luxury products and cut tariffs to stimulate domestic consumption. Provided to China Daily
Luxury goods on Chinese mainland are the most expensive in the world
It is one thing to see the great potential for domestic consumption but it is quite another to see the potential flows abroad.
How to realize purchasing power inside China, to develop its own high-end consumer goods market and to alleviate the overcapacity problem is now an urgent issue for the world's second largest economy.
China's imports of consumer goods account for only 3 percent of the country's total retail sales although it is the fourth biggest market in the world. Experts are now suggesting developing it and boosting domestic consumption at the same time.
Currently, primary products account for about 30 percent of China's total imports. The imports of industrial products make up about 60 percent, including machinery and transport equipment. By contrast, the imports of consumer goods only accounted for 5.7 percent in 2011.
"There is definitely huge potential for domestic consumption. China needs a long-term effective mechanism to tap the domestic demand because not many short-term policies can take effect in today's relatively stable market," said Chen Daofu, policy research chief of the Financial Research Institute at the State Council Development Research Center.
"To reduce the Chinese economy's dependence on exports and stimulate domestic demand has become an important part of China's economic restructuring. By moderately expanding the imports of consumer goods and reducing tariffs, the consumption potential of high-income people will be developed," said Liang Da, an economist at the National Bureau of Statistics.
Being the world's largest exporter and the second largest importer of goods, China plays an important role in propelling the world economy, especially against the background of the worldwide slowdown in economic growth.
Due to increasing purchasing power, outbound tourism and shopping have become more and more popular among Chinese people.
Statistics from the World Luxury Association showed that during the Golden Week holiday, from Sept 30 to Oct 7, Chinese people's purchase of luxury goods outside China totaled about 3.85 billion euros ($4.97 billion), up 14 percent compared with the same period last year.
Considering purchases related to overseas tourism, the catering industry and other service businesses, it is estimated that Chinese people spent more than 6 billion euros outside China during the holiday.
"Domestic purchasing power has been increasingly diverted to the overseas market. The reason may be that the prices of some products are cheaper abroad because of the tariffs. And the appreciation of the yuan also made outbound traveling and shopping cheaper," said Liang.
In addition to tariffs, the imported luxuries still need testing to get the green light from customs and to enter stores. There is also value-added tax, sales tax and consumption tax charged on the sale of luxury items, which makes the domestic price of luxury goods at least 30 percent higher than the price in the country of origin.
Statistics showed that the average price of luxury goods on the Chinese mainland is 45 percent higher than in Hong Kong, 51 percent higher than in the United States and 72 percent higher than in the French market.
Shao Lili is a new employee at a private company in East China's Jiangsu province. She plans to travel to Europe for 12 days in December. "I want to spend Christmas Day and New Year's Day there because there will be many discounts. I will attend several wedding parties next year so I want to buy lots of presents for those occasions in advance."
For the 12-day trip, Shao has a budget of about 21,000 yuan ($3,365.38). The travel agency has arranged the schedule for her, including visiting nine shopping centers that sell watches and other luxuries.
"Overseas traveling is actually beneficial to the growth of the domestic economy. The transportation industry, the banking industry, the insurance industry and travel agencies can all get boosted. Therefore, the employees in these industries will make more money to buy things in this country," said Ji Zhu, director of the World Economy Research Center at Beijing Technology and Business University.
"People's income is growing. So is the inflation rate. That's why many people feel they don't have enough money to spend. But it is still possible to go traveling because that is a good way to put all the worries aside," Ji added.
At present, the rapid process of industrialization and urbanization in China provide a vast consumer goods market. Experts said the importation of more consumer goods will bring about more competition, enhance the level of people's buying habits and improve their welfare.
The 12th Five-Year Plan (2011-15), an official document that determines the direction for China's economic and social development, stipulated the country should optimize the structure of imports and moderately expand the imports of consumer goods to adjust and balance the macro economy.
In recent years, China's imports and exports have grown rapidly. However, import policies fail to effectively serve the strategy of expanding domestic demand. Most of the imported goods are concentrated on industrial supplies, such as raw materials, fuel and equipment.
If there are more varieties of imported consumer goods, people will have more choices and will be more likely to be motivated to buy things. Once people have the desire to spend money, they can always find plenty of places to do that.
The abundance of consumer goods is just a prerequisite. Over the years, many businessmen have got used to ripping off tourists or shoppers. A well-regulated market and a fair trading environment are also important.
"It is quite understandable that many people travel and shop abroad. One way to draw more people back is to put more effort into removing the constraints on the development of China's domestic market, including food security issues, the protection of consumers' rights and the equality of income distribution," said Chen from the State Council Development Research Center.
Ye Shiwen contributed to this story.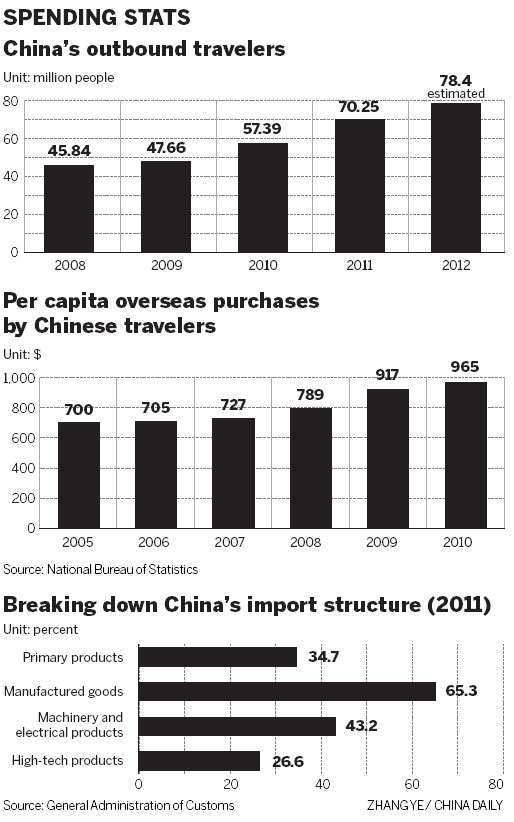 (China Daily 11/12/2012 page14)