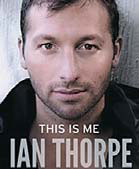 Ian Thorpe will release his autobiography on Oct 31.
Titled This is Me, the autobiography, written in conjunction with author Robert Wainwright and to be released through publisher Simon & Schuster, will tell readers a lot of things unknown about his life in and out of the pool.
Thorpe refused to reveal any of the details during the interview because of a contract to keep the content secret.