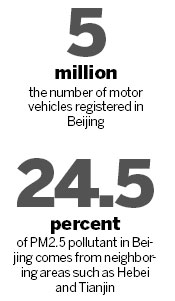 Beijing's real-time report on PM2.5 levels has led to complaints from academics and the public over a "lack of detail".
The capital's environmental monitoring center, which has 35 stations citywide, began releasing hourly updates on PM2.5, or particulate matter smaller than 2.5 micrometers in diameter, on Saturday, along with its usual reports on sulfur dioxide, nitrogen dioxide and PM10.
However, air quality readings on its website - bjmemc.com.cn/g356.aspx - are only available for the previous 24 hours.