Good at keeping time
Updated: 2012-10-03 07:17
By Liu Ce and Wu Yong (China Daily)
| | | | | | | | | |
| --- | --- | --- | --- | --- | --- | --- | --- | --- |
|   | | Print | | Mail | | Large Medium  Small | 分享按钮 | 0 |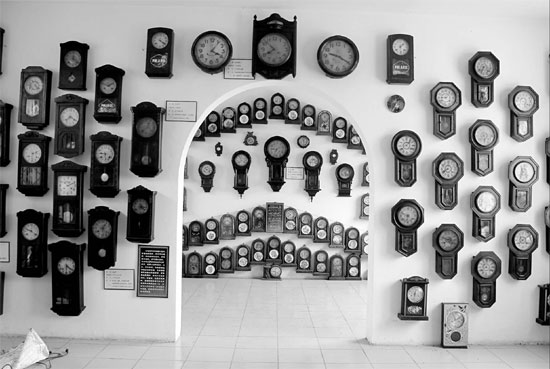 Part of the collections in Li Tao's clock museum in Shenyang, Liaoning province. Liu Ce / China Daily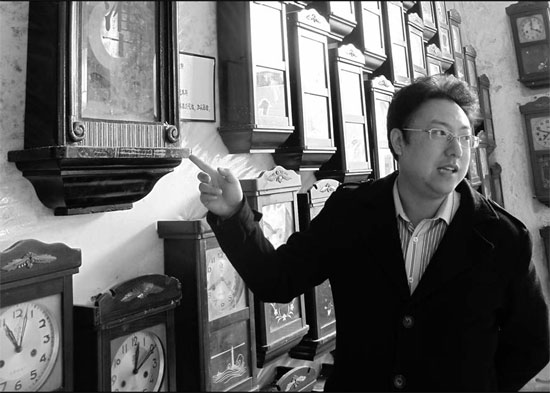 Antique clocks hold stories about history
Li Tao has time for antiques.
The 31-year-old, who owns a private clock museum, has 5,500 pieces in his collection, many with special historic meanings.
"These collections are far more than just antiques or art for me. What really attracts me are the stories behind each clock."
Located in a 500-square-meter house with two floors in Shenyang, Liaoning province, the collection is the sole private antique clock museum of China.
Li became interested in collecting clocks at age six under his father's influence. However, a trip to Tianjin in 1999 changed his life.
Li went to Tianjin with his father to search for antiques and witnessed how precious antique clocks were bought at very low prices and shipped abroad. The clocks were disassembled because the mechanisms inside could be reused.
"It was a great pity to see those clocks with a high artistic value ruined," Li said.
He made up his mind to collect clocks, and so far his collection includes more than 300 national-grade antiques.
Each clock has its own story to tell.
He pointed at a diamond-shaped clock hung on the wall.
"This is called 'Queen Clock'. It was specially made during the negotiations between Deng Xiaoping and prime minister Thatcher to return Hong Kong. The clock was presented to the Queen of England, meaning that there is no room to maneuver on the Hong Kong issue." (The pronunciation of "clock" in Chinese is the same with "end".)
Li showed a triple-face clock made in Japan. He found the clock in 2000 in an antiques market in Shenyang. He was attracted by the special shape at first, but then he found the logo of the "Manchukuo" railway on the clock. The railway was built by the Japanese in 1930s when they invaded Northeast China and set the puppet regime there.
"This clock bears an importance more than its price because it is a witness to a bitter period in history. Now, when we look at it, it can remind us of the shame of being colonized and we shall never forget it," said Li.
"All the clocks carry special historic meanings and can be passed on by generations. I think I have the mission to convey the stories to visitors and the next generation."
He is planning to encourage his 4-year-old daughter to carry on his dream.
Contact the writers at liuce@chinadaily.com.cn and wuyong@chinadaily.com.cn
(China Daily 10/03/2012 page8)