Around China
Updated: 2012-08-22 07:17
(China Daily)
| | | | | | | | | |
| --- | --- | --- | --- | --- | --- | --- | --- | --- |
|   | | Print | | Mail | | Large Medium  Small | 分享按钮 | 0 |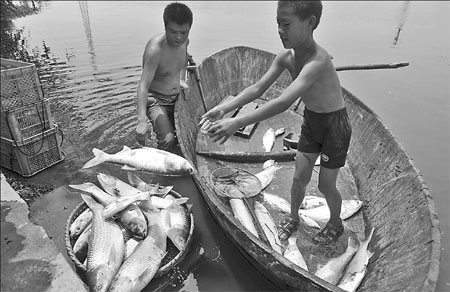 Deadly heat wave
Two residents in Huanglu township of Anhui province on Monday salvage dead fish in a local pool. More than 1,000 kilograms of fish were found dead. Local police said recent high temperatures caused a shortage of oxygen in the water and killed the fish. Photo by Li Yuanbo / for China Daily
Beijing
Official calls for better enforcement
Senior Chinese leader Zhou Yongkang on Monday inspected procuratorial, judicial and law enforcement departments in Beijing and Tianjin, calling for standardization of law enforcement work, China Central Television reported on Tuesday.
Zhou, the country's top law enforcement official, called for thorough implementation of the rule of law as well as strict, just and clean law enforcement while making field studies.
A seminar for law enforcement standardization was held in Tianjin after Zhou's inspection. He said at the seminar that prominent achievements have been made in standardizing law enforcement in recent years and major problems in the field have been contained, with cleaner, more transparent work and greater capacity to enforce laws and serve the people.
Satellites set to look for fund misuse
Beijing's afforestation watchdog has said it will turn to satellite monitoring to expose fake green drives in the city and prevent the misuse of plantation funds, local media reported on Tuesday.
"To strengthen the supervision of our forest land management cost, we are planning to use five satellites over Beijing to monitor forest land," Deng Naiping, head of the Beijing Landscape and Forestry Bureau, was quoted as saying by The Beijing News.
Deng, who was speaking at a conference of the city's forestry officials on Monday, said satellite monitoring will help expose embezzlement of plantation management funds.
Clean energy making more power
Sources of clean energy generated 106.8 billion kilowatt-hours of electricity in July, up 31 percent from a year ago, according to figures released by the State Electricity Regulatory Commission on Tuesday.
During the first seven months, sources of clean energy generated 505.5 billion kwh, accounting for 18.4 percent of total on-grid power, up 1.9 percentage points year-on-year.
In the January-to-July period, electricity from wind power, hydropower and nuclear power increased 29.7 percent, 15.6 percent and 15.3 percent, respectively.
Wealth gap in rural areas widens
Households in rural China have seen incomes increase on average over the past three years, but the wealth gap in the vast countryside has almost reached the warning level, a top Chinese institute for rural studies said on Tuesday.
The cash income of rural households grew 14.1 percent from a year earlier to an average of 38,894 yuan ($6,125) last year, and the per capita cash income in rural areas rose 11.9 percent to 9,260 yuan, according to a survey by the Center for China Rural Studies under the Central China Normal University.
However, the wealth gap among rural households is widening. The Gini coefficient, an index reflecting the rich-poor gap, stood at 0.3949 in rural China last year, nearing the warning level of 0.4 set by the United Nations. The institute said that the total income of the top 20 percent of the rural households was 10.19 times that of the bottom 20 percent and that the wealth gap in the western parts of China was bigger than in the east of the country.
The survey was launched in 2009 and covered more than 6,000 rural households across the country. The figures have not been adjusted to reflect inflation.
Govt adds 200m yuan for pest control
The Ministry of Commerce said on Tuesday that it has allocated an additional 200 million yuan ($31.75 million) in subsidies to assist in pest control efforts.
The funds, together with 400 million yuan issued previously, are designated to protect cornfields in northeastern and northern China from army worms and southern rice-producing areas from rice planthoppers and rice blast disease, the ministry said in a statement on its website.
The ministry asked local authorities to work with professional organizations to improve pest control work and step up supervision to increase the efficiency of the funds.
Low confidence in domestic food
More Chinese consumers are turning to imported food brands because of domestic food safety scandals in recent years, according to a report published on Monday by research company Ipsos.
According to the report, 61 percent of Chinese consumers said that their confidence in domestic food brands has declined during the past year, and 28 percent said they will buy more imported food brands instead of domestic products.
Dairy products are the most popular imported products, followed by grains, cooking oil and children's food.
Crackdown targets license-plate fraud
Public security authorities on Monday launched a national campaign to combat violations of automobile license-plate regulations.
The campaign, which will run until Oct 31, will focus on the forging or illegal alteration of license plates, as well as the use of false plates and driving while intentionally covering license plates, according to a statement issued by the traffic management bureau of the Ministry of Public Security.
During the campaign, police will also target illegal replication of others' plates or driver's licenses. Drivers should report incidents in which they receive tickets for violations they have not committed to local authorities to help police find "cloned" plates, the statement said.
Safety improves in the workplace
Work safety in China has seen continuous improvement over the past decade, with decreasing numbers of workplace accidents and deaths, an official said on Tuesday.
Huang Yi, spokesman for the State Administration of Work Safety, said during an online news conference that workplace accidents and deaths had decreased for nine consecutive years by 2011.
The number of workplace accidents dropped from more than 1 million in 2002 to 350,000 in 2011, and deaths from those accidents dropped from about 140,000 to 75,572 during the same period.
Fujian
9 held in phony cigarette ring
Police have apprehended nine people after busting a fake-cigarette business involving 100 million yuan ($15.8 million) in Fujian province.
The case was solved on Tuesday after a two-month investigation across five provinces by police from Wuping county.
Police said three of the suspects, including the ringleader, surnamed Huang, were arrested. Six others have been taken into police custody.
Fair to bring in 500 organizations
Nearly 500 organizations from more than 100 countries have confirmed their attendance at the 16th China International Fair for Investment and Trade, which is scheduled to open in the coastal city of Xiamen on Sept 8, organizers of the event said on Monday.
As of Monday, seven heavyweight international organizations, including the Organization for Economic Cooperation and Development, the United Nations Conference on Trade and Development and International Finance Corporation, had confirmed their attendance for the four-day event, said Wang Qiongwen, an official with the organizing committee.
Among the participants are 48 delegations from the United States, about 100 from Europe and 50 from emerging economies, including Russia, South Africa, Brazil and India, said Wang.
Jilin
6-day film festival opens in Changchun
A leading Chinese film festival opened on Monday night in Changchun, capital of Northeast China's Jilin province and a cradle of the country's film industry.
The six-day event is attended by renowned film directors, playwrights, actors and actresses, composers and officials from the Chinese mainland as well as Hong Kong, Taiwan and Macao.
A total of 268 Chinese films will be shown during the festival, 32 of which have been shortlisted for nine major awards.
The China Changchun Film Festival has been held every two years since it was launched in 1992. The ongoing festival is the 11th such event.
Xinhua China Daily
(China Daily 08/22/2012 page2)