Lenovo bucks trend, keeping things in-house
Updated: 2012-07-23 07:57
By Tuo Yannan (China Daily)
| | | | | | | | | |
| --- | --- | --- | --- | --- | --- | --- | --- | --- |
|   | | Print | | Mail | | Large Medium  Small | 分享按钮 | 0 |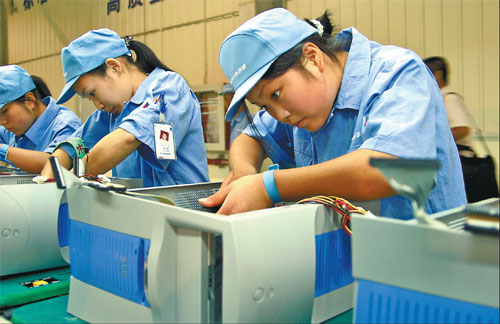 Lenovo Group Ltd's workers assembling PCs in the company's manufacturing center in Shanghai. Unlike Apple Inc, Hewlett-Packard Corp and Acer Inc, which outsourced most of their manufacturing to other companies, the China-based company uses its own factories and employees to assemble its products. Shen Yu / For China Daily
Although outsourcing manufacturing has become the trend for most PC companies globally, Lenovo Group Ltd, the second largest PC maker worldwide, still keeps about half of its production in-house.
The Chinese company has six solely owned manufacturing bases in China, three of them in Beijing, Shanghai and Chengdu. It also will open a new plant in Brazil and begin producing PCs in Japan.
Lenovo plans to invest $30 million building a computer factory and a distribution center in Itu, in the Brazilian state of Sao Paulo, the company said in an e-mailed statement.
It will have as many as 700 employees at the unit in two years, when it's expected to reach maximum capacity, Lenovo said.
Compared with Apple Inc, which outsourced most of its manufacturing to Taiwan-based Foxconn Technology Group, Lenovo uses its own factories and employees to manufacture its products. In so doing it is working against the industry trend.
Gaining greater end-to-end control will improve performance in all key areas, including pioneering new technology, cost management, delivery cycle times and product quality, company President and Chief Executive Officer Yang Yuanqing said.
In northwestern Beijing's Shangdi area, its factory is next to the company's country headquarters.
Lenovo's Beijing research center is only about 10 minutes drive from the plant. Shuttle buses travel back and forth between the two buildings every day and the company even provides bikes for its employees to commute to work.
Lenovo believes that retaining its own factories gives the company advantages over its peers. "Selling PCs is like selling fresh fruit," said Yang in an interview with The Wall Street Journal. "The speed of innovation is very fast so you must know how to keep up with the pace, control inventory, match supply with demand and handle very fast turnover."
About a decade ago, businesses in the West started to move their factories outside their homelands and outsource production overseas. Back then, designing and producing a cellphone required about two years. It was reduced to about a year in 2002. By 2006 it took less than six months and now a smartphone can evolve from a draft into a customer's hand in four months.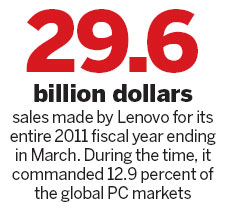 Along with the intensive competition in the PC and smartphone industries, quicker reactions and faster service are required to attract customers. However, outsourcing means it takes longer to react to market changes, according to industry experts. In order to cater better to users' needs, many companies are considering moving their production bases to local markets or to bring them back under their own umbrella.
After forming a joint venture with the Japan-based NEC Corp, a provider of IT products and services, and buying the German consumer electronics maker Medion AG, Lenovo's sales in developed economies increased from January to March by 85 percent year-on-year, reaching $3.4 billion. Lenovo is now the largest PC brand in Japan measured by sales.
The company recently decided to shift part of its PC production facilities to Japan by using NEC's factory. The move will reduce the time spent delivering goods from the Chinese plant to the Japanese market to five days. It used to take more than 10 days.
Last year, Lenovo invested in a desktop computer factory in Chengdu. Because the company is producing more mobile Internet products such as tablet PCs and smartphones, it will invest 5 billion yuan ($78 million) to set up a mobile Internet product factory in Chengdu in the next five years.
Last year it invested $300 million in a Taiwan-based original equipment manufacturing company in Hefei, Anhui province, to set up a new production plant.
For its entire 2011 fiscal year ending in March, Lenovo said it made $29.6 billion in sales. During that time, it commanded 12.9 percent of the global PC market, confirming it as the second-largest PC producer and fourth-largest tablet PC producer measured by market share.
The company would deliver "a high single digit to mid-teen" percentage growth in earnings per share in the fiscal year, according to an earlier ICBC report.
Lenovo shares fell to their lowest in six months in Hong Kong trading after ICBC International Research Ltd said the company's growth outlook is weakening.
Global computer shipments will rise 5 percent in 2012, which will be a "challenging year" because of the debt crisis in the eurozone economy, researcher IDC forecast last month. Lenovo shares have dropped 26 percent in the past two months, compared with a 6.2 percent decline in the benchmark Hang Seng Index amid concern the economic slowdown will hurt computer demand.
"The recent price correction was attributable to the weakening PC growth outlook and its stretched valuation," said Kary Sei, a Hong Kong-based analyst with ICBC. "In view of the slowing global economy, PC demand is likely on the downside."
Jeff Shafer, a Lenovo spokesman, said: "We continue to be confident in our strategy and execution and in our overall performance in PCs."
"As we have stated before, it remains our expectation to grow faster than the market and we continue to make the long-term investments in areas such as product innovation and building our brand that will enable us to maintain our momentum."
Lenovo will grow "at a significant premium to market", said Milko Van Duijl, Lenovo's president for Asia-Pacific and Latin America, in a June 28 interview in Hong Kong. He didn't give a specific growth forecast at the time.
Bloomberg contributed to this story.
tuoyannan@chinadaily.com.cn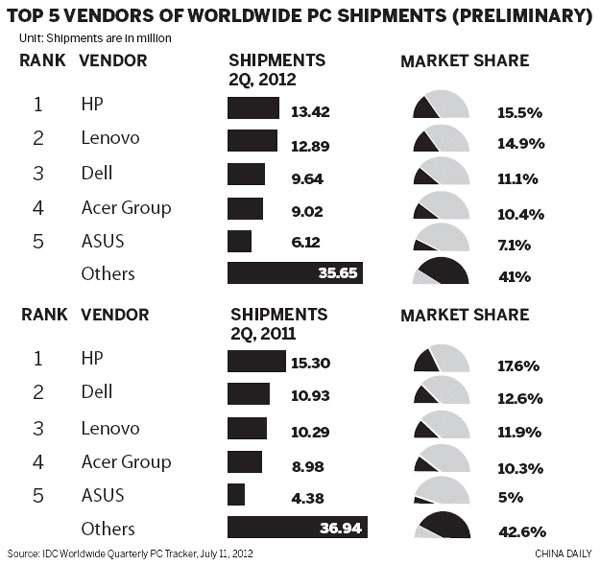 (China Daily 07/23/2012 page13)