Chinese elements add interest to Sudoku competition
Updated: 2012-05-26 07:52
By Zhang Yue (China Daily)
| | | | | | | | | |
| --- | --- | --- | --- | --- | --- | --- | --- | --- |
|   | | Print | | Mail | | Large Medium  Small | 分享按钮 | 0 |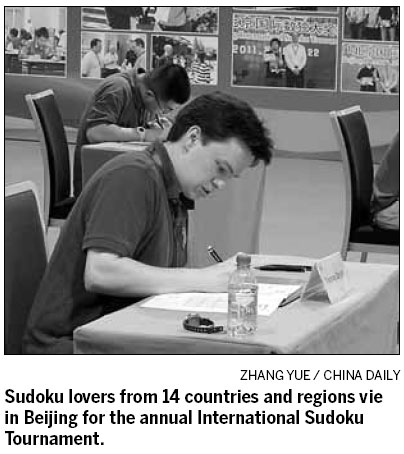 This year's Beijing International Sudoku Tournament had an exciting factor - Chinese elements.
"This is the first time that the binary system and mosaic, which are some of the concepts used in Chinese puzzles, have been used in an international Sudoku competition," says Chen Cen, the 27-year-old designer of both this year's and 2011's puzzles. The three-day annual competition ended on May 20.
Citing an example, Chen says in one of the rounds, instead of putting correct digits into the regular 9x9 grid, participants were given the Eight Diagram, a Chinese philosophical concept from Taoism. The Chinese-concept Sudoku puzzles were designed based on the creativity of the designer and not computer-generated.
"Most Sudoku puzzles are designed by computers, which are not really interesting because if you make poetry by computer, it would not be interesting poetry either. But these have very artistic, logical themes," says Thomas Snyder, 32, the winner of World Sudoku Championships in 2007, 2008 and 2011.
The Sudoku player has participated in all kinds of international competitions and also designs his own Sudoku puzzles. Although he did not win first place at the tournament in Beijing this round, Snyder says he enjoyed the competition.
"This is an incredible tournament with amazing puzzles, and you meet the world's best players," he says, adding that most of the best Sudoku contestants are college students in their 20s, and he finds it harder to concentrate on puzzles as he becomes older.
A passion for number puzzles brought 51 Sudoku lovers from 14 countries and regions to Beijing to vie for 10 top cash prizes ranging from between $600 and $6,000.
Kota Morinishi, a 23-year-old college student from Japan won the championship, with Jakub Ondrousek from the Czech Republic in second place.
None of the 14 participants from the Chinese mainland made it to the semi-finals this year.
Chen says one of the reasons was because the game is still relatively new in China.
"People in European countries and Japan have been playing Sudoku for more than 20 years, but the game did not get popular in China until 2005," says Chen, who started playing Sudoku in 2005, and won seventh place in a world Sudoku tournament in 2010.
"Moreover, as Sudoku competitions are mostly held in the English language, understanding them properly and precisely is also a problem for Chinese players," she adds.
Chen says Sudoku attracted mostly middle-aged people in China when it was first introduced because, "Sudoku only appeared in newspapers at that time, and middle-aged and elderly people read newspapers the most."
But she says in the recent two years, middle school students are becoming the best Sudoku players in China, because "kids are generally quicker and better at numbers."
Chen notes that there is now increasing interest in the game, with more schools and universities starting courses related to Sudoku. She also gives lectures at seminars.
The oldest of this year's Chinese participants was Liang Yue, 54, who says he loves the game because the puzzles keep his mind active.
"Another good thing about Sudoku is that you don't need a team to start a game," he says. "You can get quite involved in it with just a pen and a puzzle all by yourself."
He usually logs onto the world's most popular Sudoku websites to practice different types of puzzles, such as fed-sudoku.eu. This is also a place that most world top Sudoku players communicate with one another by posting their solutions to some Sudoku puzzles.
Liang says his father, in his early 80s, also loves playing Sudoku. They spend at least two hours playing Sudoku every day.
"I didn't come here to win," he says. "I love it because the game, simple or complicated, always keeps my mind quick and alive."
zhangyue@chinadaily.com.cn
(China Daily 05/26/2012 page11)