Songbird flits from stage to stage
Updated: 2012-05-09 08:01
By Chen Nan in Beijing (China Daily)
| | | | | | | | | |
| --- | --- | --- | --- | --- | --- | --- | --- | --- |
|   | | Print | | Mail | | Large Medium  Small | 分享按钮 | 0 |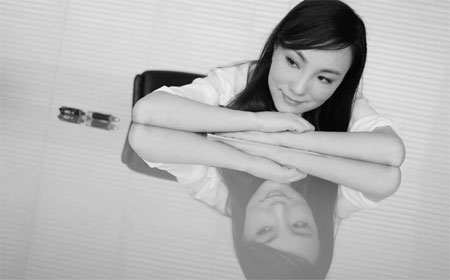 Soprano Chen Xiaoduo is extending herself and taking on pop and folk singing roles. Photos by Wang Jing / China Daily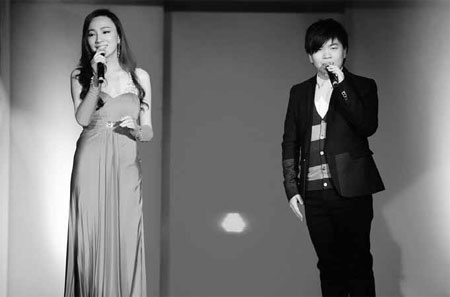 Chen Xiaoduo sings You and Me, the 2008 Beijing Olympics theme song, with Chang Shilei.
Renowned soprano Chen Xiaoduo made the bold move to sing beyond the operatic stage. She shares her journey with Chen Nan in Beijing.
The year was 2007 when soprano Chen Xiaoduo received a phone call from leading composer Chen Qigang asking her to be part of his production. And, as the saying goes, the rest is history.
Chen was already an acclaimed soprano then, having won Beijing's 2004 National Singing Competition. But, since she started her career as a traditional opera singer, she had not stood on another stage. That phone call in 2007 propelled her from one stage to another, even beyond the country's shores.
She was the first singer of You and Me, the 2008 Beijing Olympics theme song. She was also invited to sing a romantic ballad, Ring, together with pop singer Han Geng.
In 2010, she took a dip into pop and folk singing, as well as dancing, when she performed the lead role in the opera In That Remote Place. The production tells the story of Wang Luobin (1913-96), who's known as the "Father of Chinese Folk Music".
In 2011, she sang the theme song Qin and Huai Scenery for director Zhang Yimou's movie The Flowers of War.
Those were bold and surprising moves, following her role in Chen Qigang's opera Iris Unveiled. In 2009, the opera was staged at New York's Carnegie Hall. Chen's sweet operatic voice, together with that of another Peking Opera-style soprano, Meng Meng, impressed Western audiences.
Having just wrapped up her performances of the opera at the Hong Kong Culture Center in mid-April, Chen will perform in the US in May, under the baton of Edo de Waart. The tour will include Carnegie Hall.
"I have found more possibilities to use my voice through my performances," the soprano says. She looks relaxed without any makeup. She wears a silky blouse with Chinese ink painting on it and a black skirt. Chen looks so much younger in person without the usual fluorescent gown that she wears onstage.
She says her cooperation with Chen Qigang is "thrilling".
"Though the phone call was unexpected, I have always felt my voice is suitable for his music. I was ready for the role because I've listened to his music for years and knew his style," she explains.
The nine movements in Chen Qigang's 45-minute score are slow, gently textured meditations that require a soprano's patience and skill. The score's philosophical underpinning seems peculiar to Western audiences because it was totally based on traditional Chinese culture.
"The collision of different cultures is what I love most," she says.
When Chen first started working on the role, she spent a long time researching the nine movements - Ingenious, Chaste, Libertine, Sensitive, Tender, Jealous, Melancholic, Hysterical and Voluptuous.
"Her singing skill was not a problem. All she needed to do was to feel the character and the nine emotions," composer Chen Qigang says.
To feel the different emotions, the soprano would spend hours alone, walking slowly and breathing to the music. And because the composer's music is very slow and smooth, the singer had to give up some traditional operatic singing approaches, which are high-pitched and full-sounding.
"Over the past few years, I have performed the opera many times, which allowed me to polish my singing and acting," she says. "I also realized that my voice is like a color palette, which offers different colors according to various roles."
The soprano's performance also won her another role in composer Chen Qigang's latest opera, Red River Valley, which was based on a 1997 film about the British incursion into Tibet.
"Even the smallest roles touch me, if they have souls," Chen says. "I don't mind being ignored onstage. I just want to play unforgettable roles."
Like most Chinese sopranos, she sings a compilation of traditional Chinese and patriotic songs at national galas. She has performed in the opening scene of the grand dance-drama Road to Rejuvenation at the National Center for the Performing Arts, retracing the country's turbulent history from the Opium War in 1840 to the present. Her graceful stage presence and soft, melodic voice help draw audiences into the unfolding drama.
"I never think of myself as a well-known name in China's music scene, though I have performed in many big shows," she says.
"It's not a bad thing because it gives me freedom and opportunities to discover more possibilities for my voice. But, you know, the happiest thing for a singer is to be unknown and just sing whatever a singer likes."
Music has shaped Chen's life from the beginning. She was born and bred in Yueyang city, Hunan province. Her mother was a primary school teacher, who loved music of various genres, and her father was a well-known flute player in her hometown.
"My parents often played music at home - anything from classical to pop," she says. "I loved singing at a very early age."
Chen staged her first solo concert when she was 7 in her house's courtyard. It was a farewell concert before her family moved to Changsha, capital of Hunan province. "I sang many songs for my friends and neighbors," she recalls. "For the first time, I felt like a singer, and I knew that I would be a singer one day."
She studied both at the China Conservatory of Music and the Royal Academy of Music, London. After winning Beijing's 2004 National Singing Competition and Belgium's Queen Elizabeth Competition, Chen furthered her studies in Europe.
The first week in Belgium, Chen recalls, was terrible. She lost her confidence when comparing herself with her classmates and even doubted her decision to be a singer.
"I couldn't do anything except to call and confide in my parents," Chen says.
However, she got used to the school and life there in two weeks. Her singing was recognized by her foreign professors, and she was surprised to find the potential of her voice.
In June, Chen will perform a solo concert in her hometown Yueyang. Light Years will be an audacious experiment, she says.
"When I first thought of diversifying, I felt that only rock 'n' roll could match the power of opera singing. And I'm going to try to combine the two genres when I perform in my hometown," Chen says.
"I have always loved rock 'n' roll, especially old established Chinese rockers, such as Cui Jian and bands like Black Panther and Tang Dynasty."
Contact the writer at chennan@chinadaily.com.cn.
(China Daily 05/09/2012 page20)