More than just a pretty jump shot
Updated: 2012-01-06 07:43
By Sun Xiaochen (China Daily)
| | | | | | | | | |
| --- | --- | --- | --- | --- | --- | --- | --- | --- |
|   | | Print | | Mail | | Large Medium  Small | 分享按钮 | 0 |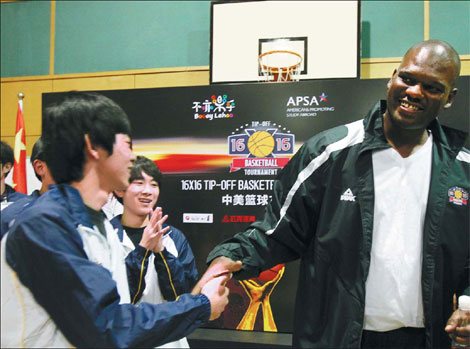 Former NBA all-star Jamal Mashburn shakes hands with a Chinese student during a basketball tournament between Chinese and American students in Beijing on Dec 19. Liu Ping for China Daily
Former NBA all-star Jamal Mashburn is enjoying a wildly successful second career as a businessman - and maybe eventually the owner of his former franchise, Sun Xiaochen writes.

Stars shine on the big stage and then often fade out of sight when they choose to retire. Magic Johnson, Michael Jordan and Charles Barkley are three basketball greats who have gone on to have further success off the court; you can add to their ranks Jamal Mashburn, another post-NBA beacon.
Plagued by a serious knee injury, the all-star forward quit the game in 2006 with an impressive averages of 19.1 points, 5.4 rebounds and 4 assists per game. Instead of squandering his earnings from the game, as athletes are prone to do, Mashburn invested his earnings of about $75.6 million in business ventures.
The 39-year-old now has a business portfolio that includes 37 Papa John's pizza shops, 30 Outback Steakhouse restaurants, two car dealerships and a real estate company.
"For me, being in business is always something I wanted to do. When I was a kid riding on trains in New York, I saw older people carrying a briefcase. I was always curious what was in them. That's probably my original inspiration," Mashburn told China Daily last month at a Sino-US friendly basketball tournament.
"I had talent as a basketball player, so I used it as a vehicle to open doors and meet people. I am not a guy who wants to be a one-night wonder. I want to continue my legacy as a businessman. It gives people a chance to see me as more than just a former pro athlete."
Dubbed "Monster Mash" for his prolific scoring ability, Mashburn attributes some of his off-court success to what he learned during his 14-year career with the Dallas Mavericks, Miami Heat and Charlotte Hornets.
"I learned a lot from playing basketball, such as how to be disciplined, how to motivate others and how to be a leader. The way you play translates into business. Just having money as an ex-pro doesn't mean you are a great businessman. You have to start from the ground floor," said Mashburn, who also took a job as a TV analyst with ESPN after his retirement.
Shifting from the gym to the office, Mashburn handles his new profession the same way he worked on the court.
"They are very similar," he said. "I trained hard to prepare for every game as a basketball player; as a businessman I do a lot of research. I was versatile on the court, and I now have my hands in fast food, car and real estate businesses."
Mashburn also enjoys family life and spends a lot of time going to movies with his wife, whom he met in college, to keep their relationship "fresh and young".
He also passed his athleticism on to his 15-year-old daughter, who is a high school volleyball player, and his 10-year-old son, who is a big fan of LeBron James.
"(My son) doesn't remember me playing because he was so young. In my house, it's all posters of James and (Dwyane) Wade. I have to Google myself or show him a tape to prove that papa used to be a pro It's a lot of fun," said Mashburn, who enjoys taking his family and friends out sailing on his 90-foot (27m) yacht.
However, Mashburn still misses the game and is considering buying a team. The league-managed New Orleans Hornets appear to be an ideal opportunity for Mashburn, who has talked with league commissioner David Stern several times while putting together a group to purchase the franchise.
"I can be an asset to a team as an owner, not only for my ability to scout talent, but also understand the business side of things. The first all-star of the Hornets comes back to buy the team, it's going to be a great story," Mashburn said.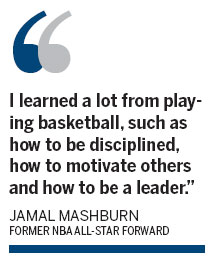 As a witness to the 1999 NBA lockout, Mashburn is fully aware of the recent labor impasse's damage, and understands the players' sacrifice of income to reach a new labor agreement.
"It (1999) did great harm to the league. It took a long time for the fans to come back. The players have to do a better job as well as the owners. They have to engage fans more, spend more time signing autographs and doing more clinics," he said. "The players realize that, no matter who owns the team, (a work stoppage) puts forward a negative impression of the players. They figured, why waste the season and battle over one or two percent? So they just returned the game to do what they do."
Unlike the current stars, who could jump overseas for big payouts, Mashburn and his fellow players didn't have so many offers from abroad in 1999.
"(Going to foreign leagues) wasn't really an option," he said. "Basketball leagues in other countries then were still pretty young. Guys in my time were more concerned about not getting hurt and staying in shape at home."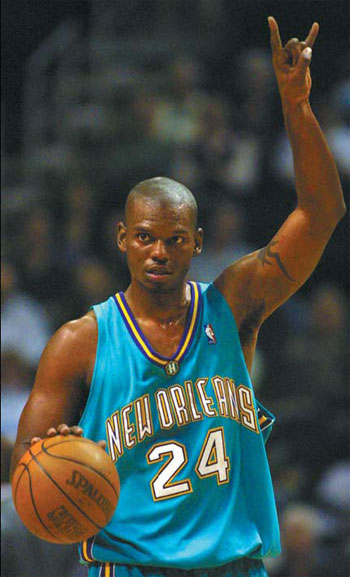 Jamal Mashburn played for the Mavericks, Heat and Hornets during his 11-year NBA career, averaging 19.1 points, 5.4 rebounds and 4 assists. He spent two more seasons trying to recover from a serious knee injury before retiring. Roy Dabner / Agence France-Presse
(China Daily 01/06/2012 page22)