Even the best got better
Updated: 2011-11-18 07:41
By Sun Xiaochen (China Daily)
| | | | | | | | | |
| --- | --- | --- | --- | --- | --- | --- | --- | --- |
|   | | Print | | Mail | | Large Medium  Small | 分享按钮 | 0 |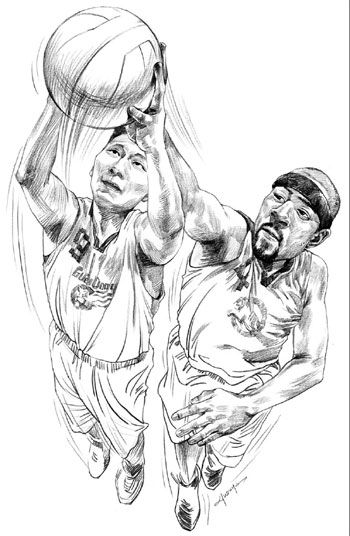 An influx of talent has spread through the CBA; but can someone knock off the powerhouses? Sun Xiaochen reports.
The 2011-2012 Chinese Basketball Association (CBA) tips off this Saturday and will boast special gifts from the United States that should expand its appeal. Thanks to the NBA lockout, a stream of star free agents have flown in from the West and will make the next four months one of the fiercest title races in the league's 17-year history. The 17 clubs have hired 17 foreign coaches (head and assistant) while drafting 33 foreign imports, including 12 NBA caliber players, as they attempt to challenge the reigning champions Guangdong Southern Tigers, who have won seven titles in the past eight years. Former New Jersey Nets forward Yi Jianlian's return will undoubtedly strengthen Guangdong while relieving its itch for another foreign player. Four-year NBA pro James Singleton, who averaged 21.1 points and 9.5 rebounds per game for Guangdong's final rival, Xinjiang, last season, was its only signing to date, but the team is in discussions with another potential import, Detroit Pistons guard Rodney Stuckey.
Unlike other clubs with thin Chinese rosters, Guangdong routinely counts on its local core, which includes veteran Zhu Fangyu, sharp shooter Wang Shipeng and budding forward Zhou Peng, who are all key pieces of the national team.
Yi, who helped Guangdong collect three titles before landing in the NBA in 2007, will have few problems blending with his hometown pals after returning from a US camp last week, said head coach Li Chunjiang.
"It took a week at most for Yi to read our current system. This bunch of guys grew up with him and still fights with him on the national team, so there is no problem with chemistry."
Li also said the team won't make many adjustments just to suit Yi, as he has permission to return to the NBA whenever the lockout ends.
Among the other title chasers, the past three years' runners-up, the Xinjiang Flying Tigers, loom as Guangdong's greatest threat.
While signing the league's most renowned and expensive import Kenyon Martin - the former Denver Nuggets all-star forward - to the league's largest-ever one-year contract of $2.7 million, the Flying Tigers also invested in three-time MVP center Tang Zhengdong from Jiangsu and promising guard Meng Duo from Dongguan.
"With the addition of these new guys, the roster has improved a lot and it puts a lot of expectations on us. We are not going to hide it. Our goal is try to win the championship," coach Bob Donewald told China Daily last week.
Bringing his trademark defense-first philosophy, which benefited his former club, the Shanghai Sharks, and the national squad, Donewald hailed Martin as a solid piece to protect the box.
"He's not J.R. (Smith) or Wilson Chandler, he's coming over here to play defense, to rebound, to block shots. This is the blue-collar guy to do all the dirty jobs and win the championship. That's what I expect of him being here," said Donewald, who just steered China to the Asian Championship title and a spot at next year's London Olympics.
The team suffered a huge blow as its cornerstone, Quincy Douby - who ranked second in the league with 30.8 points per game last season - will miss the regular season after breaking his wrist in an exhibition game last Sunday.
The Sacramento Kings' 2006 first-round pick has returned to the US for surgery, and the Flying Tigers are reportedly trying to land the Atlanta Hawks' Jamal Crawford to fill the void.
Apart from the big two, the field is wide open and there are some ambitious challengers.
Two squads in Zhejiang province, the Golden Bulls and Lions, who boast long-range bombers Smith and Chandler from the Denver Nuggets respectively, could spoil the Guangdong-Xinjiang party.
Stephon Marbury's Beijing Ducks also expect to be in the mix, while the Bayi Rockets will try to regain their momentum led by veteran center Wang Zhizhi.
Newcomers Foshan Longlions, Dongguan Leopards and Fujian SBS should also provide serious challenges as they all feature athletic young locals and seasoned imports.
"I think one thing people are assuming is Guangdong and Xinjiang in the final again. I don't see it that way. I see a lot of teams this year have gotten better with key additions. I have seen some of the new Chinese players mature. The league is getting better and more challenging," Donewald said.
However, the chasers remain cautious of any great upheaval in the league.
"No one is going to really eat their (Guangdong and Xinjiang) cake," said Brian Goorjian, the Australian coach of last season's third-place finisher, the Dongguan Leopards. "They both added more than anybody else, they have separated more from the rest of the group. Some teams have made improvements, but they are still behind them significantly."
Anyway, it's going to be a high-level tangle this year, chaotic but fascinating.
Let's sit tight at 7:30 pm on Saturday to watch the opening show between the Foshan Longlions and the Shandong Golden Lions.
(China Daily 11/18/2011 page23)