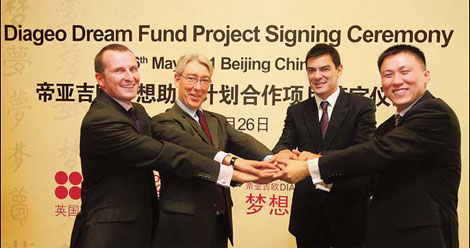 Lin Menuhin (second from right), director of corporate social responsibility for Diageo Asia-Pacific, and partners of the Diageo Dream Fund at the launch ceremony of the fund. Provided to China Daily
BEIJING - London-based Diageo Public Ltd Co, the world's largest alcoholic beverages group by sales, launched its second Diageo Dream Fund by signing an agreement with the British Council on May 26 to become a partner in its Skills for Social Entrepreneurs project in China.
It is a three-year global strategic program initiated by the British Council in 2009 with the purpose of identifying and equipping non-governmental organization workers, the new generation of social entrepreneurs and community leaders who have the aspiration to address community-based issues with skills to adopt social enterprise in a value-added way.
As British Council's project partner, Diageo will fund five training programs for the project in Tianjin, Nanjing, Changsha, Kunming and Xi'an, until next April.
About 250 trainees from online applicants have been selected to date by a judging panel led by the British Embassy and its partners.
"The dream fund is intended as a vehicle to provide people with an opportunity to fulfill their dreams in a way that will benefit the community in which they live," said Lin Menuhin, director of corporate social responsibility for Diageo Asia-Pacific.
He also said that Diageo will invest 700,000 yuan ($108,061) in the dream fund, which will be mainly used to provide training for potential and existing social entrepreneurs whose community-based programs need to grow.
There are many people and companies that support such award schemes simply by donating money. This is important, because for social entrepreneurs and other small businesses, finance is essential, said Patrick Horgan, director of programs for the British Council.
"But the most important thing is being able to build the skills and being able to build the human capital within those social entrepreneur organizations," he added.
The United Kingdom is a pioneer of social entrepreneur networks.
"We rely on the British Council to bring certain kinds of expertise from the UK to support this training. We also see this program as a fantastic opportunity for Diageo to develop more holistic, sustainable corporate social responsibility (CSR) programs," said Menuhin.
During the courses, trainees will learn the fundamentals of how to start social enterprises and how to turn creative ideas into a working reality. They will bring economic market principles to solve social and environmental issues.
"The point is that you use basic market techniques to solve these problems by creating value for the community," Menuhin said. "Basic principles will be communicated in the training. In addition, there will be more specific guidance, such as how to raise funds, how to write business plans. It's kind of similar to what you may encounter in a business school."
Diageo's involvement in the program is not just about funding the training - it also engages its employees in the whole process of the program by providing them with a real opportunity to contribute in a value-added way.
Employees from Diageo will have the opportunity to communicate with the trainees, getting to know the problems they encounter in conducting programs and what their needs are. They are encouraged to participate as volunteers.
Most of the employees are from the sales and marketing departments and seldom join in corporate social activities. They tend to be less knowledgeable about the purpose of the company's CSR projects. Employees' participation in the first dream fund campaign improved their awareness of social entrepreneurship and stimulated their passion for contributing to society.
"Most of our employees intend to serve as volunteers in these programs in the long run. We even have to take steps to keep their enthusiasm under control," said Chen Gefang, head of CSR for Diageo China.
The first Diageo Dream Fund campaign began in November 2009 and lasted six months. A total of 324 qualifying proposals were received nationwide, covering a wide range of social issues, including care for the disadvantaged, education and environmental protection.
Finally, five entrants were selected for the excellence of their proposals and ambition to pursue a dream. Those involved are currently implementing their proposals under the help of third-party professional institutions designated by Diageo.
Menuhin said there are a lot of people in China who want to develop social entrepreneurship and have innovative ideas about doing so.
"Maybe the environment is still young, but it has tremendous potential," he said.
China Daily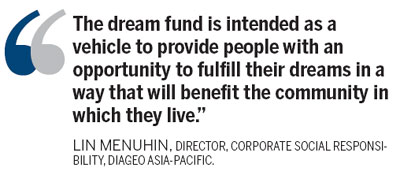 (China Daily 06/20/2011 page22)