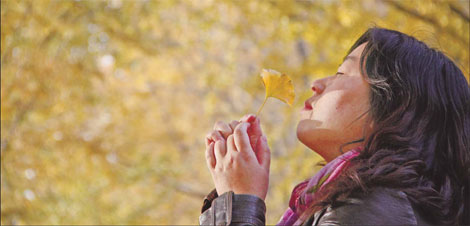 Gingko, camphorwood and osmanthus trees thickly line the streets and malls as part of a very dedicated campaign to turn a 'hotpot' spot into a clean, healthy garden city. Pauline D Loh examines the main motivations behind the greening of Chongqing.
Chongqing is enormous. It sprawls across 82,300 square km and has jurisdiction over 19 districts, 17 counties and 4 autonomous regions. It is not a city, but rather, one of four direct-controlled municipalities in China, the others being Beijing, Shanghai and Tianjin.
Nestled within the Sichuan basin, the area is among the hottest in the country in summer, and is known as one of the three "furnaces" of China. It is also one of the foggiest as well, due in part to industrial smog and due partly to its low sunshine days because of the geographical location in the Yangtze valley.
The city center itself is perched among rocks, and the average elevation such that it's easier to go about on foot than ride a bicycle. Houses are creatively tucked among the many precipices, giving rise to the traditional "hanging towers" the city is known for.
But it is all undergoing a metamorphosis.
There has been a lot more green among the concrete recently and the municipal topography is changing so fast that new maps are outdated by the time they get printed. Stretches of green lungs will section the city as the current administration pushes industries further out to the suburban edges. This new ecology-friendly approach can be credited to one man - Bo Xilai, the party secretary who took office in November 2007.
In an interview with Bo late last year, we were given insight into the massive tree-planting exercise and his rationale for investing so much money in the project.
His raison d'etre is so simple you wonder why no one has thought of it before. Investing in trees is not so much investing in a plant, he says. It is investing in a healthier environment. Chongqing's hot and humid weather needs more greenery to lower the median temperatures, and the landscaping will also increase oxygen levels, helping people think better, think clearer.
Gingko trees (see story below) are slow-growing and long-lived. Their leaves, although deciduous, are pest-resistant. Gingkos now line Chongqing's major access roads, and its main arteries in and out of town.
Camphorwood is another tree chosen for Bo's campaign to plant "10 years' worth of trees in one year, 100 hundred years' worth of trees in 10 years". Camphor is a tree valued for its sweet-smelling timber, which goes into the making of traditional trunks because the wood is insect-resistant. Thus, the choice of camphor is both for its pleasant appearance and its commercial value.
The third species of tree being widely planted in Chongqing is the osmanthus, a sweet-smelling shrub that can grow into a massive tree under the right conditions. Here, it is used in areas with heavy human traffic, where the fragrance of the flowers will perform the function of a natural deodorant.
Of all the five projects that he had already initiated in Chongqing, Bo says he's proudest of his tree-planting campaign.
Talking to a delegation of media from Hong Kong and Macao on April 29, Bo said: " In many cities, the airport highways are lined with trees - poplars, willows, Chinese scholar trees, but those in Chongqing are fringed with rows of gingko, camphorwood and osmanthus.
"A gingko tree can live up to 800 years. Camphor is good quality wood and known for its ability to repel insects. These are all valuable tree species.
"In Chongqing, we have the foresight to leave a green legacy for our children and grandchildren. It is a legacy that will increase in value with each passing year.
"We have been determined in our tree planting. Last year alone, we invested more than 10 billion yuan, a sum equivalent to what Chongqing had spent in the last 10 years. We will continue at this rate for the next 10 years, until we have succeeded in "planting a century of trees in a decade".
"You can never make a mistake in planting trees. When you improve the environment, people breathe in more oxygen, and they think better, and they'll be able to calculate and plan for future development better. It is a benign cycle that is very beneficial."
This is not the first time Bo has used nature to his advantage.
At Dalian, a gray concrete city before he took over first as mayor and then as party chief in Liaoning, Bo also decorated the city with plenty of green and color. His rationale then was that - just as people judged a person by how he dresses, investors would look at a city and judge it by how it looks. He was right. From just another third-tier city, Dalian blossomed, literally, into a commercial and industrial hub after its make-over.
Bo is fond of quoting how political celebrities from abroad, including Lee Kuan Yew, elder statesman of Singapore, yet another garden city, applauded his green campaigns.
The greening of Chongqing is costly, and it has drawn criticism. Both gingko and camphor are expensive species, and they needed to be brought in from neighboring Yunnan and even as far away as Shandong. Osmanthus is brought in from both Yunnan and Sichuan. The cost of the green campaign has some citizens wincing.
But when we look beyond the immediate and examine the future benefits as these trees grow and naturalize, the expenditure may not seem so overwhelming after all. He has done his arithmetic, and he has seen the future, and to Bo, the numbers balance.
And for the citizens of Chongqing, the debate still goes on, even as they relax under the shade of the gingko and camphor trees, and take in the wafting fragrance of the osmanthus.
(China Daily 05/08/2011 page3)