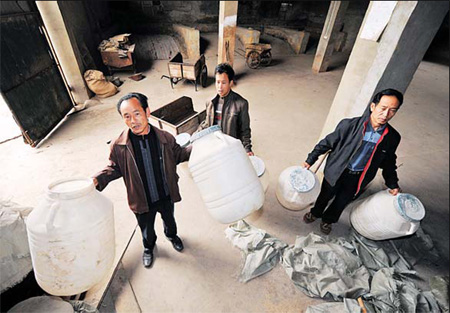 Workers at a liquor workshop near Maotai township of Southwest China's Guizhou province show empty water tins, with their business shut down due to a lack of water on Wednesday. Shi Zongwei / for China daily
Tobacco, liquor and sugar industries facing hardships due to lack of rain
BEIJING - Xiong Shunbang, like many local residents in Maotai township of Southwest China's Guizhou province, makes liquor to earn a living since local water is believed to be the crucial factor in making the special taste of Kweichow Moutai, a high-end liquor served at official feasts with foreign State leaders.
But because of the severe drought that has affected Guizhou since last autumn, Xiong's liquor businesses all have been closed for months. All five cellars for making liquor are empty, Chongqing Evening News reported on Thursday.
"Some two tons of water are needed each day, which used to be no problem. But now, neither spring water nor tap water can be guaranteed," he said.
Yu Jihua, director of the Maotai township's agricultural office, estimated some 200 small liquor workshops have been affected by the drought.
Many local farmers also postponed the planting of sorghum, the major grain for making liquor, in fear that planting now would lead to bigger losses.
"If the drought continues, the output of sorghum will be affected, and the liquor prices are likely to soar in the future," Zhao Ruxiang, a local liquor producer, said.
According to the latest official statistics, 7.6 million hectares of farmland and 22.71 million people around the country were suffering from the drought by Tuesday.
Some 85 percent of the dried land and 79 percent of the thirsty population are in southwestern China - Yunnan, Guizhou, Guangxi, Chongqing and Sichuan.
Guangxi and Yunnan are China's major sugar producers. The two, as well as Guizhou, also contribute 55 percent of the country's total tobacco leaves each year.
As worries arise that the severe drought will reduce the yield and push up prices and the consumer price index (CPI), Zhou Wangjun, deputy director of the department of prices of the National Development and Reform Commission, said the impact is limited.
In a story in the Economic Information Daily on Thursday, he estimated that the drought is likely to cause China's total sugar cane production to drop 13 percent.
Sugar prices are likely to be affected, but since sugar takes up only a small part of people's daily consumption, it will have a limited impact on consumers, he said.
A possible slump in tobacco leaf production will also have minimal impact on the price of cigarettes, as the current domestic tobacco leaf stock can supply two years of tobacco production, he said.
The drought will also exert little influence on the price of rice.
"Southwest China is not China's major grain producer. The most severely hit Yunnan province produces only 2.7 percent of the country's grain," he said.
Last year when major grain producing areas in North China and Northeast China encountered severe drought, the country still managed to yield a bumper grain harvest for the sixth consecutive year.
"The current drought-stricken arable land is only less than half that of a year ago. The drought will only have a small influence on the rice output," he said.
The National Meteorological Center forecast on Thursday that light showers will hit most parts of Guizhou, Yunnan and part of Sichuan in the next three days, but the rain will be of little help to the drought, which will linger on.
President Hu Jintao has urged the People's Liberation Army (PLA) and armed police force to put all efforts into helping drought victims.
The PLA urged its local divisions in drought-affected areas to put drought fighting on top of their agendas, helping locals find water and drill wells.
The Ministry of Finance has allocated 155 million yuan ($22.8 million) to the southwestern thirsty areas to upgrade water conservancy infrastructures.
China Daily
(China Daily 03/26/2010 page3)