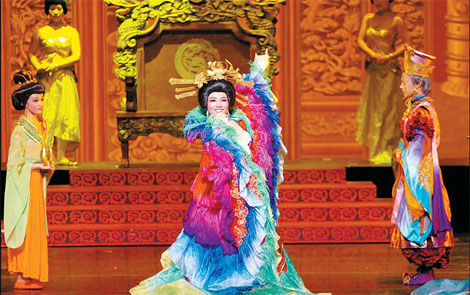 Tang Concubines features lavish settings and costumes, splendid Chinese dance, acrobatics and kungfu performances. File photo
The audience at the Century Theater could hardly have asked for more from Dennis K. Law's action-musical Tang Concubines. The lavish settings and costumes, splendid Chinese dance, acrobatics and martial arts, plus the unique orchestral music featuring traditional Chinese instruments, all combined to immerse them in the emotion, drama and battles of the Tang Dynasty (AD 618-907).
On Saturday evening, however, the second day of its run in Beijing, the show did not sell out - in fact, many seats were empty. Law, the show's playwright, producer and director, looked tired and disappointed backstage but said he had not expected the show to sell well in its first week.
"Action-musical is a totally new concept for local audiences, and it takes time to let them know what we're presenting," said the 60-year-old Hong Kong-born American producer.
He wouldn't want to wait too long, though. Tang Concubines, which won the Best Choreography and the Best Costume Design from Toronto Dora Award, cost him $2.5 million to make and during its run in the States and Canada, most of the shows have cost him a considerable amount of his own money.
"The empty seats don't dampen my ambition to create the shows," he said defiantly, "and actually I don't do the shows for money. It's always hard for arts and culture to make money. I want to make the Chinese culture as mainstream as any other culture."
A retired surgeon from Denver, Colorado, Law started his showbiz career by producing Warriors of Virtue, a high-budget family feature film distributed by MGM, Warner Brothers and Columbia Artists worldwide.
After the Law family purchased the Center in Vancouver for Performing Arts in early 2002, Law became the CEO and president of the Center and its associated production company Sight, Sound & Action Ltd.
The idea for his action-musicals came up in 2001 when he visited the Beijing Dance Academy and watched first- and second-year students demonstrate their dexterity.
"I was shocked. I'd been a supporter of ballet for years but I'd never seen human movement like this. It did not have any ballet or going-on-point whatsoever," he recalls.
Why, he wondered, wasn't anybody exporting this kind of dance to the West? He could only find "bits and pieces" of it in various China towns and community centers. Therefore, he decided to fuse classical Chinese dance, acrobatics and martial arts into what he termed "action-musicals".
"I had thought about producing Chinese shows for the Western market for years. I knew it would be very tough to take Chinese material and try to tell a theatrical story in a conventional way using lyrics that needed to be understood word for word. But the Chinese performers are virtuosos of action and movement, so I try to do something through actions and body language, something marrying Chinese culture with the Western stage traditions."
Meanwhile, Law was encouraged by Ann Lee's Academy Award-winning movie Crouching Tiger, Hidden Dragon, which blended Chinese legend, martial arts and gorgeous scenery.

"I wanted to parallel it in live theater," Law says. In fact, he hired the film's Oscar-winning art director, Tim Yip, for his first action-musical Of Heaven and Earth in 2002 in Vancouver. The show is based on the Chinese story of a daughter of the emperor of heaven falling in love with a cowherd.
Ever since, Law's company Sight, Sound & Action has released six action-musicals including Of Heaven and Earth, Heartbeat, Terracotta Warriors, Tang Concubines, Phoenixia and Sense.
He insists on directing and producing the shows himself to ensure they have an "authentic Chinese element".
"I am a Chinese person educated in the US and now live in US, so I know what the international audiences want," he insists. "I understand the Western market as well as the Chinese stories. It is impossible for a Chinese director or playwright to visit the US 10 days or a month and then say they really know what Western audiences want to see.
"I am interested in Chinese culture and history and when I work on a story I read many books about it and try to interpret them into a storyline that entertains the audience.
"It's built like a Broadway musical in that each scene is three or four or five minutes long, whereas traditional dance drama in China is an hour of tragedy, then ongoing tragedy for another hour. We tend to break it up like what people in the West are used to."
Building a performing force of extraordinary magnitude seemed like a necessity for Law after repeated frustrations with the logistics of renting government performers for shows abroad. So he established his own troupe in early 2005 and now has about 80 performers.
In 2005 he staged the first annual Chinese Performing Arts Festival in Vancouver and Toronto, and continues dedicating himself today to introducing Chinese performing arts to North American audiences.
When the Olympic Games run in Beijing this summer, Law will bring three of his action-musicals to the capital.
"I think, the Peking Opera might be too slow for ordinary Westerners who cannot sit for 10 minutes listening to slow singing they don't understand," he says.
"The ballet is an art from their countries, while acrobatics and kungfu shows produced in China are less appealing to the international audience. I therefore believe my action-musicals would be a good choice for them."
(China Daily 07/15/2008 page19)