Only way to go is up for economic integration
By Anil K. Gupta & Haiyan Wang
Updated: 2008-01-14 07:00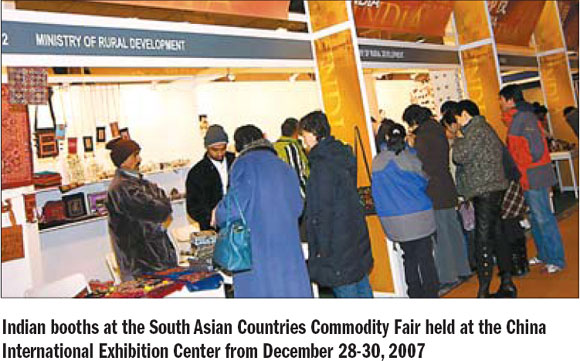 The rapidly growing economic integration of India and China is an important phenomenon. Based not just on current trends but also economic logic, it is highly likely that within 30 years from now, economic integration between China and India (in the form of trade and investment) will be among the top 2 or 3 most important bilateral economic relations between any two countries in the world.
The rapid and multi-faceted growth in economic integration between China and India will have profound implications for political and business leaders as well.
International economic research tells us that bilateral economic ties between any two countries depend heavily on the size of the two economies and the distance between them.
The larger the two economies and the closer they are to each other, the stronger the mutual trade and investment linkages tend to be. Geographically, China and India are neighbors. Culturally, they are closer to each other than most people realize. And, given the investment that Chinese society is making in learning English, even language differences will increasingly become a non-issue.
In short, 30 years from now, China and India will be not just close to each other but also very large economies - an ideal scenario for a very high level of trade and investment links.
In recent years, trade growth between the two countries has been extremely robust. International trade of both countries is growing 23-24 percent annually. In comparison, India-China trade grew at a 50 percent rate during 2002-2006 and is estimated to have expanded by a further 54 percent during 2007 to reach $37 billion.
Note also that China is about to become India's number one trading partner. From China's viewpoint, India is already one of its top10 trading partners.
Further, since China's trade with India is growing much faster than with any of the other nine, India is rapidly becoming an increasingly important trading partner for China.
Looking ahead, even if growth in India-China trade slows down to 25 percent annually from the current rate of over 50 percent, bilateral trade between them will be almost $75 billion in 2010 and $225 billion in 2015, which will be as large as China-US trade just three to four years ago.
These are very large numbers. Political and business leaders need to start getting ready now for this radically different world.
More interestingly, investment links between China and India are likely to grow even faster than trade links.
This would be an important development because investment links imply much deeper integration than trade links.
At present, investment links between the two countries are relatively modest. A few Chinese companies such as Haier, Huawei and Lenovo have significant presence in India.
Similarly, some Indian companies such as Bharat Forge in auto components and Tata Consulting and Infosys in IT services are building a presence in China. These types of greenfield investments will continue to grow.
However, the quantum leap will happen as some of the bigger companies from China and India acquire companies in third countries (such as the US, Canada and Europe) that already have a significant presence in the other country.
Imagine, for example, the sudden deepening of ties if an Indian auto company were to acquire a Western company with well over a billion dollars in revenues from China. Obviously, it is hard to predict who will buy whom.
However, one can be certain that over the next 5-10 years, the world will see a growing number of foreign acquisitions by Chinese and Indian companies. As these acquisitions materialize, it is inevitable that investment linkages between China and India will skyrocket.
Anil K. Gupta is the Ralph J. Tyser Professor of Strategy at the Smith Business School, The University of Maryland at College Park, USA. Haiyan Wang is Managing Partner of China India Institute, a research and consulting organization. They are the co-authors of two forthcoming books The Quest for Global Dominance and The Battle for China and India, both of which will be published by Jossey-Bass/John Wiley in 2008.
(China Daily 01/14/2008 page17)