The week-long May Day holidays are a good time to travel, shop or relax at home but not for many migrant workers.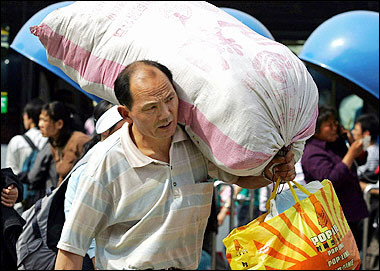 A Chinese migrant worker carries his belongings as he boards his train to go home for the Mayday holidays, at the railway station in Beijing. Chinese experts urge the Chinese goverment to take good care of their rights. [AFP]
They are frequently taken advantage of by bosses who ignore labour laws and make them work overtime, often with no extra money.
With more people looking for jobs than there are available, it is an employers' market; workers know if they leave a job for whatever reason, including poor conditions, someone will likely be only too willing to step into their shoes.
When construction worker Li Yuntian, 26, was asked if he would take any time off for the official national holiday, he answered: "You must be kidding. We work every day; we don't even rest on Sundays. As long as we get paid, we have to work."
Li, with about 40 other young men from Hebei Province in North China, works on the construction site of a skyscraper in Beijing. He said he knew nothing about labour laws.
The 36th article of the Law of Labour states that people should not work more than 8 hours a day and no more than 44 hours a week.
If it is necessary for an employee to work extra, their employer must first get consent from the relevant trade union. Any overtime worked should be on a voluntary basis and should not exceed three hours a day.
With the protection of the law, many people do enjoy an 8-hour working day, said Zhang Haitao, deputy head of the social security department of the general trade union of Jiangsu Province.
"However, some employers fail to abide by the law," he added.
According to research by the Development Research Centre under the State Council, most migrant workers do a lot of overtime without earning anything extra.
The research found that only 13.7 per cent of them work less than 8 hours a day, while 40.30 per cent work 8-9 hours, 23.48 per cent 9-10 hours and 22.50 per cent more than 10 hours.
Apart from migrant workers, many other people also work more than 8 hours a day without any bonuses' being paid, research has found.
Zhu Mingqian, 25, has to work overtime during the holiday period.
"But I can barely finish my assignments even if I work overtime," said Zhu, a certified public accountant in Nanjing, the capital of East China's Jiangsu Province.
"The 8-hour working day is never enforced in my company," he told the Xinhua News Agency.
Workers in Beijing worked for 5.9 days or 47.2 hours a week on average last year, according to the Beijing Bureau of Statistics.
Many of those in labour-intensive sectors such as construction and the service industry worked for more than six days a week.
Yet about 40 per cent of those who worked overtime did so voluntarily, according to job-hunting website www.zhaopin.com, which recently conducted an online survey of 15,000 people.
Working extra hours conforms with Chinese traditional values of diligence and hard work.
However, these values may lead to "negative effects" in a fast-developing modern society, said professor Du Wendong, a psychologist at the Nanjing University of Traditional Chinese Medicine.
High pressure and too much overtime cause poor health, Du said.
The Chinese Medical Association recently conducted a random survey of 330,000 people in 33 cities, which showed that 70 per cent of Chinese people suffer from fatigue, insomnia and appetite disorders.
"Trading leisure for money can actually mean more losses," Du said.
Zhang Haitao called for employers to set proper work and rest schedules and give their employees reasonable assignments.
(China Daily 05/02/2006 page1)