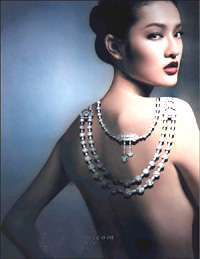 Silver-white palladium looks like platinum but it's much lighter and so can be fashioned into many more designs. It recently entered the Chinese market and a promotion is underway at Westgate Mall, writes Michelle Zhang.

Fashion and arts are always closely connected. It is natural for designers to draw inspiration from arts and vice versa.

At Shanghai Westgate Mall, a special installation arts exhibition, "Palladium - a Journey of Versatility," is underway to promote silver-white palladium jewelry from the platinum group.

It looks like platinum and has many of the same characteristics, but palladium is lighter, so it can be fashioned into many more designs. It is also less expensive. Only recently has palladium entered the China market as a unique jewelry element, not an addition to other metals.

At the exhibition, four pieces of installation art, including three fixed pieces and a video documentary, have been created by renowned female artist Ye Hongxing from Guangxi Zhuang Autonomous Region. They highlight the features of the new palladium jewelry collection and the versatile characteristics of the precious metal.

The "Words of the Heart - Versatility" is composed of two acrylic paintings featuring two women's faces covered by flowers of different colors.

In the painting of warm colors such as orange, pink and red, the woman's eyes and mouth are slightly opened as if she is longing for something. In another painting of blues, purples and greens, the woman's eyes and mouth are tightly closed to convey a feeling of chill and distance.

Through two contrasting images, the work resembles the versatile nature of women.

The "I Love Me - Mark of the Heart" uses hard durable materials such as stainless steel to create a ring sculpture. Colorful pieces of glass are placed seemingly at random on the top of the piece.

According to the artist, it represents the "dream of eternity" - how women of the day seek eternal confidence and self-worth from deep in their hearts.

The "Dance - Movement of the Heart" is created from crystal-like pieces of plastic that are bent and curled together to reflect light from different angles, delivering a mysterious aura of fantasy.

Another piece is the video titled "A Woman's 24 Hours," recording a day in the lives of two trendy working women in a big city.

Palladium was initially used as an added element in platinum jewelry. Only recently was it introduced as the main element to produce jewelry. It is similar in appearance and characteristics to platinum but it is lower in density - much lighter - and it's lower in price.

"We're glad to see that Chinese customers have gradually learned about, accepted and fallen in love with palladium jewelry in a short time," said Duke Lee, chief representative of Palladium Alliance International (PAI) in China. "We will continue to launch a series of strategic promotional activities as well as provide up-to-date information and technologies to assist manufacturers and retailers in the country."

PAI officially announced its entry to the China market in September.

At Monday's launch party for the exhibition, models in long black evening gowns and gloves displayed 39 shining palladium pieces by Italian jewelry designer Cosimo Vinci. A counter selling the new collections has been set up at the venue.

Date: through January 14, 10am-10pm
Address: 1/F, Westgate Mall, 1038 Nanjing Road W.