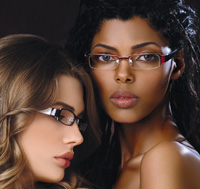 If you really want your eyes to look bigger, brighter and like a million dollars, try Cartier's luxurious jewelry eyewear in gold with diamonds and sapphires, writes Michelle Zhang.
Women use various kinds of eye shadow, glitter, liners, lashes, mascara and even contact lenses to make their eyes look bigger and brighter. Now Cartier, the French luxury jewelry house, tells Shanghai women there's another way - using eyeglasses with gold, diamonds and precious stones.
A precious eyewear collection of Cartier is on display outside the Cartier store at Bund 18's atrium, and some of the items were directly flown in to Shanghai from Paris.
Inspired by jewelry creations, the handcrafted eyewear are protective accessories as well as facial ornaments. The "La Dona de Cartier" series, available in three gold colors, is highly identifiable, deeply rooted in the jewelry and watch heritage of Cartier.
The most expensive is 385,000 yuan (US$48,942). The "Tank" series, inspired by one of Cartier jewelry's bestsellers, the "Tank" ring, is made of diamonds or sapphires with a modern and streamlined design.
The stones are invisibly encased in the hinges on the thin, flat solid gold frames. There is also the glittering diamond "Panthere" series featuring the panther design on the frames, the pavage referring to the panther's fur in an Art Deco style.
"To us, every single pair of Cartier glasses is like exquisite jewelry, which combines some of the world's top designers' wisdom and Cartier's cultural heritage," says Josephine Chien, general manager of Cartier China East Region. "Through the exhibition, we hope that more customers in China will experience the uniqueness of Cartier eyewear."
In 1897, Cartier produced its very first optical instrument, a prestigious blond tortoise shell lorgnette set with diamonds made for Princess d'Essling.
Orders quickly poured in: opera glasses, monocles, magnifiers and binoculars. These precious optical objects became indispensable accessories for the upper-class.
Last week, Cartier opened a 400-square-meter flagship store in Beijing's Parkson shopping mall, so far the biggest Cartier store on the Chinese mainland.
Cartier store in Shanghai
Date: through November 19, 10am-10pm
Address: 18 Zhongshan Rd. E1
Tel: 021-5292-5809