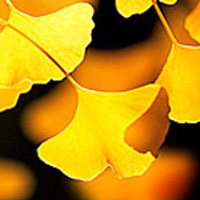 Besides maple and smoke trees, one of the most beautiful trees in autumn in Beijing is the ginkgo. There are several places to go to view the golden leaves of this tree, but the most beautiful ginkgo woods, and photographers' favourite destination, is next to the east and north gates of Diaoyutai State Guesthouse at 2 Fucheng Lu, Haidian District.
Another place is a road in the north part of Ditan (Altar of Earth) Park at Andingmenwai Dajie (6421-4657). Enter from the west gate of Ditan Park and walk on to get there. Some of the ginkgo trees are said to be as old as the park itself.
Two giant ginkgo trees at the west gate of Peking University at 5 Haidian Lu, Haidian District are indicators of the university's lovely autumn scenery. There are smaller ginkgo trees sparsely located by Weiming Lake on the campus.
There are also ginkgo trees, most aged more than 30 years, lining a path inside Yonghegong Lama Temple at 12 Yonghegong Dajie near the entrance.
China National Library at 39 Baishiqiao, Haidian District has two ginkgo trees that are more than 200 years old.
Ancient temples such as Tanzhesi Temple, Dajuesi Temple at Xishan, and Dabeisi Temple at Badachu Park all have famous ancient ginkgo trees.