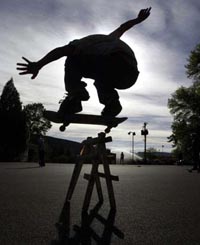 Looking for a place to skate? At first glance, with its overcrowded sidewalks and busy roads, Beijing doesn't present itself as the best place to ollie, grind or kick-flip. However, an article in Transworld Skateboarding observed that because of the financial growth and the incredible amount of construction using materials such as locally mined marble, China is fast-becoming the world's "ledge-Mecca." Xiao agrees and says this is true of many of BeijingĄ¯'s top skating locations. Here are a few of his favorites:

The Catholic East Church (Wangfujing)
A place of worship for Catholics and skaters alike. And if you happen to be a Catholic skater, all the better. Though they are occasionally moved on by guards, skaters will flock here on weekends to hang out and showcase a few new tricks.

Jianguomen Subway Station
Head out of Exit A and keep your eyes open for the skaters taking advantage of the surrounding urban landscape, which can be utilized in a number of ways by imaginative skaters.

The Police Hospital (Kai Yong Qiao)
Located on South Third Ring Road, the Police Hospital perhaps isn't the most obvious place to skate. However, the extensive railings outside the hospital provide a good place for skaters to grind and slide... until they get moved on.

The "Black Banks" (Wanda Plaza, Jianguomen Lu)
The angular casing (which can't be better described than "black banks") of the steeped flowerbeds of the Wanda complex double as great ramps for skaters to build up speed and pull off jumps. Guards stationed around the center of Wanda will promptly move you on, but go behind the buildings on the north of the plaza (closer to Guanghua Lu) and they're less concerned-some are even happy to stop and gawp as the funny-looking fellows with baggy pants and wooden planks defy gravity. Nearest subway station is Dawanglu.

Where to Buy?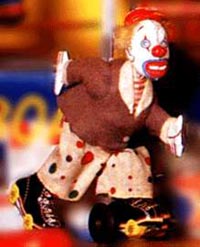 Tianyi Market
A good place to shop for cheap boards and skater equipment for beginners and younger children. A good price for a deck is about RMB 60 (don't forget to bargain!) and you might be able to track down some spare parts when your board is in need of repair. You'll find it four blocks west of the Fuchengmen subway stop, on Fuchengmenwai.

Location: 259 Fuchengmenwai Dajie, Xicheng District
Tel: 010-68320732
Tour Skateshop
The man to know for all your skateboarding needs, Xiao Long is an official distributor for Chinese board brand Society/The People's Skateboards and also stocks highly coveted American brands. Decks range from RMB 280-400.

Location: 48 Jiaodaokou Nandajie, Dongcheng District
Demokratic Snowboard , Skate and Surf Shop
Specializing in the skater look, this newly opened shop is an official outlet for Burton, Oakley and DC among other brands. Check it out for apparel, shoes and accessories. When the snowy months roll around, Demokratic also provides snowboarding gear.

Location: Upper East Side Complex, 8, Section A Central Plaza Dongsihuan, Chaoyang District
Two sites, www.3xchina.com and www.sheuskisk8.com, specialize in Chinese skate brands and offer doorstep delivery. The 3X website also includes comprehensive board maintenance tips and the latest skating news in China.