XIGAZE, Tibet - 62-year-old Tsedan Wanggye is one of very few masters of a national intangible cultural heritage craft - Tibetan knife making. The old man from Lhaze county of Xigaze prefecture in Southwest China's Tibet autonomous region attended the Xigaze Culture Exhibition with his two sons for the first time this year.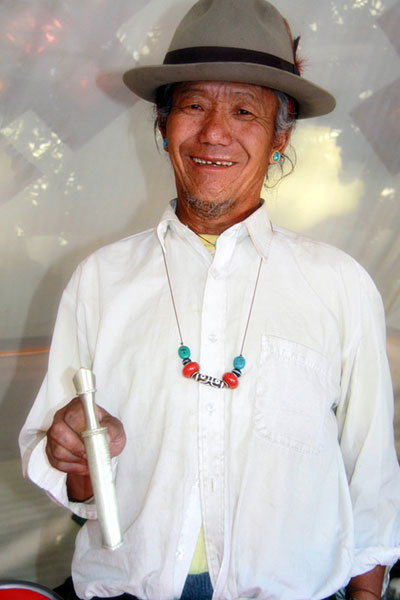 Tsedan Wanggye poses with a Tibetan knife at his booth at the Xigaze Culture Exhibition in Tibet on Aug 27, 2011.[Photo/chinadaily.com.cn] 
The Culture Exhibition is part of the 9th Qomolangma Culture and Tourism Festival, which kicks off on Friday. Locals from 18 counties of Xigaze take part in the exhibition which started on Aug 14, 2011.
It was 9:30 in the morning, and, while there hadn't yet been many visitors, Tsedan and his sons had already started making knives attentively at their exhibition booth.
When I walked into their booth, Tsedan welcomed me with a big smile and brought me a stool to sit on and a cup of Tibetan butter tea.
His elder son, Nyema, put down his work at hand and ventured over to ask me where I was from in broken Chinese.
I kindly replied and asked if I could take a closer look at the four knives that he was working on a minute ago.
"Of course", he said.
"How much are they?" I asked.
Nyema told me the smallest one cost 600 yuan and the whole set (four knives) cost 3,500 yuan.
Detecting my surprise, Nyema elaborated on the reasoning behind the cost, saying that the price of the Tibetan knives his family makes is usually twice the price of those that others make.
"That's probably because our knives are the most sharpest", he explained. Made from copper, Tsedan Wanggye's knives should be wrapped by at least three layers of bull skin if it is being carried without a knife sheath so as not to hurt anyone.
"And also all of our knives are elaborately hand-made", said Nyema. Pointing to the largest one of the set, Nyema estimates it took about four days to finish. "For the smallest one, it took up to a whole day."
Tsedan cannot speak Chinese, so his son has naturally become his translator.
Tsedan is a fifth generation successor to the craft of Tibetan knife making. "Our hometown, Lhaze county, produces the best Tibetan knives", Tsedan said proudly. "Among the three families in our county who mainly make Tibetan knives, we are the best", Tsedan said, showing me the medal and certificate which were awarded to him by the Ministry of Culture in 2009.
Tsedan's 12-member family earned 100,000 yuan last year by making knives alone. Other than knife making, the family still have farmland that can be used to earn a living.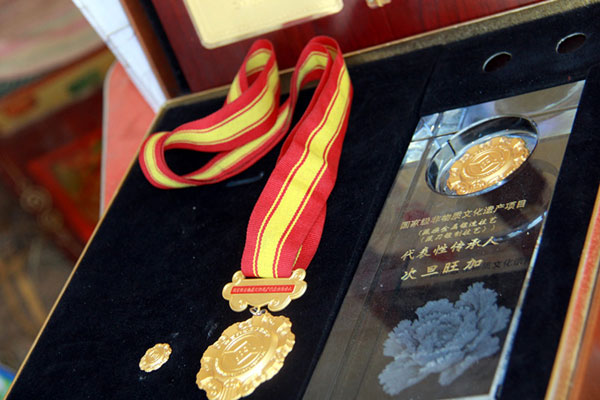 Tsedan Wanggye's medal and certificate which the Ministry of Culture awarded him as a master of a national intangible cultural heritage craft - Tibetan knife making. [Photo/chinadaily.com.cn]
Since the opening of the exhibition, Tsedan says he has already sealed the deal on 100 orders. "That is going to keep us busy for the most part of the year", he said.
Knives have many roles in Tibet. Given natural conditions that are unique to Tibet, knives are used to eat meat, butter and zanba (roasted highland Harley). They were also used as weapons against British invasion in 1904, but now for many tourists, and some Tibetans, Tibetan knives are adornments.
Tibetan knives are adorned with handles made of bull horns, antelope horns, wood or metal. Knife sheaths are made of animal hides, bull horns, metal or wood.