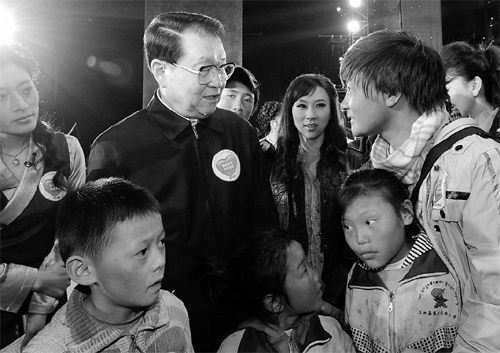 Li Changchun, a member of the Standing Committee of the Political Bureau of the CPC Central Committee, chats with children from Yushu county, epicenter of the Qinghai earthquake, after the CCTV charity show on Tuesday night. Li and other top officials made their donations during the show, which raised a total of 2.1 billion yuan. LI TAO / XINHUA
 
From a garbage collector who needed a brick to write down a charity telephone number so that he could donate his day's earnings, to entrepreneurs and businessmen who pledged millions of yuan, a star-studded CCTV telethon on Tuesday raised a record 2.2 billion yuan for quake-stricken Qinghai province. Telethon for survivors breaks donation records. Liu Wei and Wang Shanshan in Beijing report
Rubbish collector Chen Qiren watched Tuesday night's Qinghai earthquake telethon in the streets of Yunnan province. With the meager income he makes sifting through trash for cans and boxes, he cannot afford a television or a phone. Yet that did not stop him from making his donation.
After calling the hotline that flashed on the screen during the China Central Television (CCTV) show, Chen was connected to Ma Dong, a news anchor and one of the celebrities manning the phones in Beijing.
"He wanted to donate all of the money he made on the day of the earthquake - about 104 yuan ($15)," Ma told the studio audience. "When I told him the number for the bank account to transfer money to he said, 'Let me find a brick so I can write it on the ground'."
Chen and the millions of others who called during the four-hour telethon (a fundraising broadcast that can last hours, if not days) helped organizers reach a grand total of 2.1 billion yuan, which will be used to help Yushu county in Northwest China's Qinghai to recover from the devastating 7.1-magniture earthquake that struck on April 14.
China Daily has donated 5 million yuan to relief efforts in Qinghai.
The sum raised by CCTV was 661 million yuan more than when the State-owned broadcaster staged a gala for the victims of the Sichuan earthquake in 2008.
"I can see charity has a place in the hearts of many people," said Jin Yue, director of Tuesday night's telethon. "People are eager to help every time there is a natural disaster and they need platforms like this gala where they can offer a hand."
People help victims either with donations or voluntary work. They do it for survivors in Yushu, for those in Wenchuan (epicenter of the Sichuan disaster) and for victims of any other natural disaster, he said.
Three decades ago, ci shan, or charity, was a word rarely used in China.
Between the 1950s and 1970s, the central government was responsible for all relief efforts during natural disasters, said Zhou Qiuguang, a professor at Hunan Normal University and author of A Brief History of Charity in China.
The spirit of charity, he said, began to develop after 1978, when the country shifted from a planned economy to a market one, and individuals started to have resources to spare. The first charity organization, the China Children and Teenagers' Fund, was set up soon after in July 1981.
However, the country did not get its first major charity until Project Hope was launched in October 1989. The group, which is still running, was initially aimed at opening schools in poverty-stricken rural areas and to help students from disadvantaged backgrounds receive complete elementary education.
The project grew fast as the Chinese got richer and became more enthusiastic about charity. Former leader Deng Xiaoping, who led the nation's reform and opening up, donated money anonymously twice in 1992, a fact that was revealed in the media years later.
When East China was flooded by the Yangtze River in the summer of 1991, the Ministry of Civil Affairs launched the first nationwide donation campaign. It collected 1 billion yuan from across the country and another 1 billion yuan from abroad.
When the Yangtze River burst its banks again in August 1998, China held its first major telethon, jointly organized by the China Charity Federation, the Red Cross Society of China and CCTV.
"Our goal at the time was to collect 20 million yuan," Yan Mingfu, then-president of the China Charity Federation, told Beijing Times. "We were extremely nervous because no one could estimate how much we would get."
The gala went on to receive more than 300 million yuan.
Before this week, the record for donations through a Chinese telethon was the 1.5 billion yuan raised by CCTV in 2008 to help those affected by the 8-magnitude earthquake in Wenchuan.
Giving generously
Private business owners were among the most generous during the record-breaking gala Tuesday night, with several donating more than 100 million yuan. All of them talked about "corporate responsibility" - a relatively new concept in China - when they presented their checks.
On stage, a representative of Wanda Group, a property developer based in Dalian, Liaoning province, said the company gave 260 million yuan to charities between January and March this year.
Cao Dewang, entrepreneur and chairman of the Fuyao Glass Group in Fujian province, and his son, Cao Hui, donated 100 million yuan from their personal assets. They said they will give another 200 million yuan to people in Southwest China struggling with the worst drought in a century.
But it was not just the rich and famous who contributed to the record-breaking event.