BEIJING - Veteran journalist and former China Daily publisher Jiang Muyue passed away on Jan 24 at the age of 96.
Jiang embarked on his journalistic career in 1938, when he founded Starlight Weekly in Chengdu, Sichuan province, which carried morale-boosting messages during the War of Resistance against Japanese Aggression (1937-45).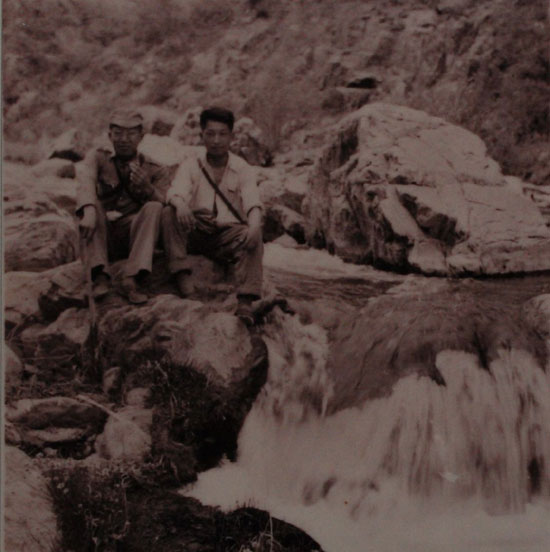 Jiang Muyue (L), former publisher of China Daily, at the Zhongtiaoshan battlefield during the War of Resistance against Japanese Aggression (1937-45). [Photo provided to chinadaily.com.cn]
Always on the frontlines, Jiang led a China Youth Journalists Society war correspondents team in 1939 and contributed stories to major newspapers in Chengdu.
In the 1940s, Jiang held a succession of editing positions in influential newspapers and news agencies, such as Xinhua Daily, Xinhua News Agency, People's Daily and Workers' Daily.
He later served as the publisher of Zhejiang Daily (1957-60).
Between 1963 and 1978, he worked as the deputy director of the China International Publishing Group, from where he was assigned to lead the four-man commission that founded New China's first national English language newspaper - China Daily.
When the newspaper debuted in 1981, he became the paper's publisher.
Although Jiang was in his 60s and had limited foreign-language proficiency, his more than four decades of newspaper experience proved crucial to discovering the talent needed to operate the English-language newspaper.
"The personnel problem was very tough when starting the brand new English newspaper," recalled Yu You, former deputy editor-in-chief of China Daily. "Thanks to Jiang's connections and resources, a group of experienced journalists was brought in from all across the country."
Since the paper still needed a host of reporters and editors with solid English, Jiang agreed to a colleague's proposal to make a recruitment announcement and organize an employment examination, bringing more talent to the fledgling newspaper.
"When preparing to found the newspaper, Jiang always considered himself a primary school student, ready to learn," Yu said.
He visited Hong Kong's Ta Kung Pao newspaper's English version and the South China Morning Post to learn what challenges might arise.
He also traveled to Australia and the United States to exchange and establish ties with foreign peers, and to learn about the printing equipment needed.
The hardworking and considerate trailblazer was also instrumental in coping with circulation and general management.
He spared no effort in the selection of locations for the offices and dormitories.
When people from outside Beijing joined the newspaper, he brought their spouses to the city and helped them find jobs.
Jiang went to Hunan and Guangdong provinces to stage exhibitions to introduce China Daily soon after it began publishing.
He increased subscriptions at hotels where foreigners stayed, paving a new circulation path.
Jiang continued to advise China Daily after his retirement.
He studied legendary Ming Dynasty (1368-1644) travel writer and geographer Xu Xiake (1587-1641), and became the Xu Xiake Research Society's president.
Jiang was born in Sichuan province's Peng'an county in 1915 and attended the province's Jialing High School. He joined the Communist Party of China (CPC) in 1938.
He is survived by his daughter, four sons and their mother.
A memorial service will be held at 10:30 am on Feb 3 at Beijing's Babaoshan Revolutionary Cemetery.