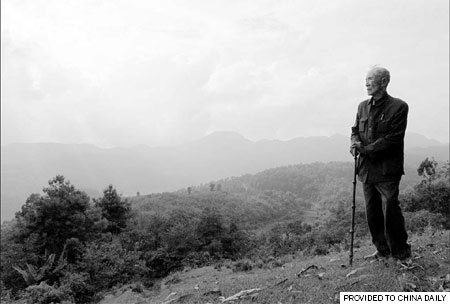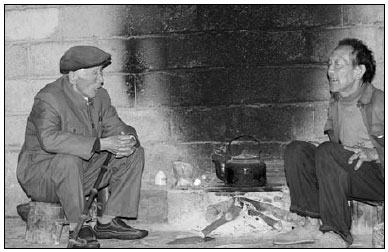 Yang Shanzhou (left) talks to a villager in Yaoguan.[China Daily] 
After retiring, former government official Yang Shanzhou spent 22 years planting trees and bringing relative prosperity to a small town in Yunnan province. Yang Wanli reports.
Qingming Festival, or Tomb Sweeping Festival, on April 5, is when Chinese pay tribute to their ancestors by visiting and cleaning their gravesites. But for 330,000 residents from Yaoguan, a small town in southwest Yunnan province, there is another person to remember this year.
Yang Shanzhou, a former government official who spent his 22-year-long retirement planting trees on the once-barren mountains and helping locals grow cash crops to improve their lives, died on Oct 10, 2010.
"It's almost legendary how an old man changed so many people's lives. It was not an obligation for a retired official and he never earned any money from what he did," says Wu Lianzhang, a town official.
Farmer Zhang Hongfa, 57, recalled the year, 1988, when Yang first arrived in his hometown.
The family was living in a mud-and-straw hut and there was not enough grain to eat, so they were living on corn powder and Chinese yam.
Life began to improve soon after the arrival of Yang, then 60, and about to retire as Party secretary of Baoshan municipal committee.
Wu says, at the time, few families could afford a brick house, electricity was not available and there was little water and few trees on Daliangshan Mountain.
"The mountain lost its trees to support the manufacturing industry, only grass and shrubs remained," Wu says. "We had to get water from 5 km away. A round trip took about an hour."
The lack of water meant locals had a bath just twice a month and washed with a towel in a basin of water.
"The income of a farmer was 6 yuan (92 US cents) per month, which was barely enough to cover the cost of food at that time," Wu adds.
Yang decided to help relieve poverty, mainly through growing trees. On Mar 4, 1988, 17 locals started helping Yang to plant trees, never imagining the work would continue for the next 22 years.
"Yang had an astonishing determination. In the first 10 years (of the project), he lived in a shelter on the mountain," says Zi Xuehong, who worked with Yang for 22 years. "He brought saplings from 300 km away on horses and collected nuts people threw away to plant on the mountain."
Yang used his pension to provide salaries to 17 workers, while the local government provided an additional 70 yuan for food.
Daliangshan Mountain is now covered by 4,800 hectares of greenery, including 3.3 hectares of orchards and 47 hectares of tea plantation.
Cash crop plantations have improved people's living conditions, Wu says.
Mud-and-straw huts are rare and the average annual income for a family has increased to 20,000 yuan ($3,055), Wu says, adding more than 40 families in Yaoguan's Leidashu village bought motorcycles or cars in 2010.
Apart from planting trees, Yang also called on experts to give guidance to locals about farming.
Thanks to Yang, forest coverage in Shidian jumped from 17.1 percent in 1988, to 44.8 percent in 2009. He also helped provide water to 25,000 people in 11 villages. Streams from the mountain provide water for more than 2,000 hectares of sugarcane.
In September 2009, Yang handed over Daliangshan forest to Shidian county government, worth 300 million yuan ($45.8 million), saying he was just a local government representative and he was returning the mountain to its original owner.
When Yang died of lung cancer, he left behind just 40,000 yuan ($6,111), only enough for the funerals of his wife and himself.
"Keep one half for my wife's funeral. I don't want to trouble others and that's all I have," he said in his will.