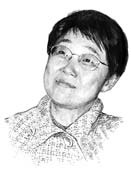 When it comes to speaking in public, Chinese often hesitate. Not because we do not want to express ourselves, but because we are not used to speaking in public.
So it is commonplace to find Chinese officials, businessmen or celebrities shy away from reporters in public, and few State leaders oblige foreign reporters for an on-the-spot interview. Except for diplomatic missions, Chinese voices are not often heard at world conferences or international forums.
To redress that, China Daily has sponsored the national English speaking contest for more than 16 years.
It all goes back to 1995 when the then British ambassador to China, Sir Leonard Appleyard, and his wife, Lady Joan Appleyard, invited me to a small party that included Prof Ren Xiaoping, then vice-president of the Foreign Affairs College, and Prof Liu Dailin of The Open University of China.
We were interested in the English language; we talked about popular Beijing English corners, TV English teaching programs and Chinese students' enthusiasm for learning the language.
Lady Appleyard suggested that China send students to participate in the international speaking contest held by the English Speaking Union annually in London since there were more English learners in China than many countries.
Why not, I said. As a media person I often thought communication between China and the world would be more effective if more Chinese could speak on the world stage. As China Daily was already publishing 21st Century English weekly for university students, the newspaper's campus network became a feasible and practical tool to promote the competition.
To ensure the quality of the contest, we invited 22 key colleges and universities such as Peking University to participate, since we wanted to select the best of the best for the international competition. All schools responded enthusiastically.
Nanjing University, for example, held two rounds of contests among its students and chose an English major, Liu Xin, to represent the school. On March 22, 1996, Liu Xin won the top prize in the first "21st Century Cup" national English speaking contest. The climax came when she went on to win the first prize in the international competition held in London in May the same year.
We were elated, and justifiably proud of the achievement. Since then the "21st Century Cup" national English speaking contest has become the most authoritative competition in the country, attracting thousands of college students every year. This year, for example, 10,000 students from 850 universities took part in it.
When we first started the competition we wanted young Chinese students to be comfortable speaking English in front of an audience. Now the best ones can talk about things beyond their personal life.
Chinese students are trying to learn to speak English as their linguistic passport to global access and future success. It is rewarding to see speaking stars born at our competition and move on to career success.
With China Daily promoting public speaking in China, it certainly helps better explain China to the world.
Huang Qing is deputy editor-in-chief of China Daily.
(China Daily 06/01/2011 page46)