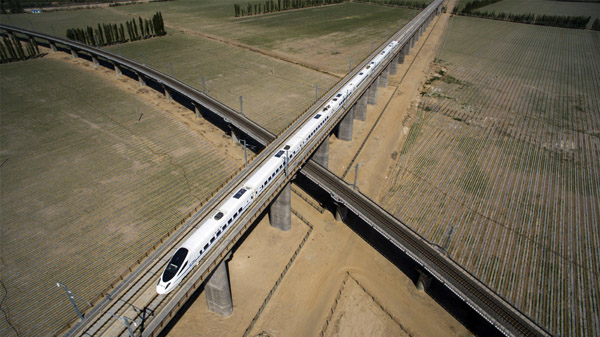 A bullet train travels from Hami to Lop Nor in the Xinjiang Uygur autonomous region. [Photo/Xinhua]
The Xinjiang Uygur autonomous region will invest heavily in more high-speed railways and highways to build a high-quality transportation network that can truly support the Belt and Road Initiative.
The region has decided to inject record funding of 170 billion yuan ($24.8 billion) into new roads, up nearly sixfold from 2016, and investment in roads, railways and airports this year will top the total funding for transportation infrastructure from 2011 to 2015.
"Poor transportation infrastructure is the biggest obstacle for Xinjiang to become China's trade hub linking countries along the Silk Road Economic Belt," Shokrat Zakir, chairman of the region, said on Sunday.
Northwest China's Xinjiang borders eight countries, including Pakistan and Kazakhstan with a border of more than 5,600 kilometers. Xinjiang was once a key transportation and trade hub on the ancient Silk Road.
During this year's annual session of the National People's Congress, the Xinjiang delegation proposed the construction of high-speed railways linking the regional capital of Urumqi and southern Xinjiang's Kashgar, the starting point of the China-Pakistan Economic Corridor, as well as another one connecting Urumqi and northern Xinjiang's Horgos, a land port on the China-Kazakhstan border.
The delegation also proposed starting construction on the China- Kyrgyzstan-Uzbekistan railway, which has long been discussed and planned. The national lawmakers from Xinjiang believe it is urgent to start construction on the railway to enhance economic cooperation with the two Central Asian countries.
A total of 223 westbound trains carrying construction materials, agricultural produce, garments and other merchandise traveled via nine cross-border routes linking Xinjiang to Central Asian countries in 2016, said Hu Kaijiang, director of the Xinjiang Economic and Information Commission.
This year, Xinjiang plans to expand operations to run 400 westbound cross-border trains to facilitate exports of technology and equipment and seek new growth opportunities, Hu said.
Geographic location, rich natural resources and preferential policies introduced to encourage opening-up have given Xinjiang advantages in becoming the core area on the economic belt, Shokrat said. Becoming a key player on the economic belt will also benefit the region's social development.
Besides improving its transportation network, the region will focus on the development of key cities along the economic belt. Xinjiang aims to achieve more than 7 percent economic growth this year and to see "substantial" progress in making the region serve as the transportation, logistic, financial, cultural and medical center on the modern Silk Road, he added.