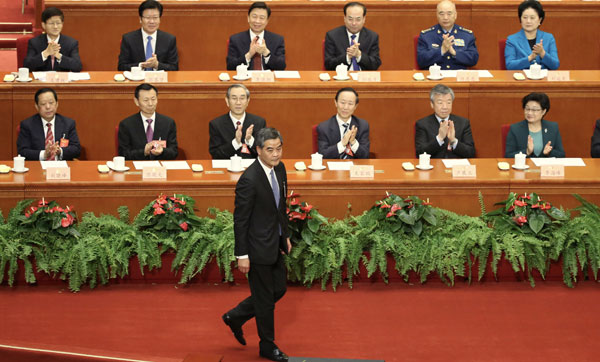 Leung Chun-ying walks toward the rostrum at the closing meeting of the annual session of the the 12th National Committee of the Chinese People's Political Consultative Conference on Monday.[Photo by Jiang Dong/China Daily]
SAR's chief executive, chosen as vice-chairman of top political advisory body, is praised for faithful service
Leung Chun-ying, chief executive of the Hong Kong Special Administrative Region, was elected on Monday as vice-chairman of the 12th National Committee of the Chinese People's Political Consultative Conference.
He was elected at the closing meeting of the annual session of the top political advisory body.
Jonathan Choi Koon-shum, a CPPCC National Committee member from Hong Kong, said the election result is well-deserved for Leung, who has implemented the One Country, Two Systems principle and the Basic Law of the special administrative region in a comprehensive and faithful manner since becoming chief executive.
In dealing with the illegal "Occupy Central" movement, opposing "Hong Kong independence" and addressing other major issues, he has been firm in stance and resolute in action, effectively safeguarding national sovereignty, security and development interests, as well as Hong Kong's overall interests, Choi said.
"Leung's achievements are there for all to see," he added.
Leung has made important contributions to Hong Kong's prosperity and stability, said Annie Wu Suk-ching, also a CPPCC National Committee member from Hong Kong.
Wu cited Leung's efforts to integrate Hong Kong's development into the country's economic and social development plan for the 2016-20 period and the Belt and Road Initiative, as well as his proposal that Hong Kong should take advantage of its role as a "super link" connecting the mainland and the world.
As vice-chairman of the CPPCC National Committee, Leung could serve the country and Hong Kong at a higher level and will surely perform his duties well, said Stephen Tai Tak Fung, a CPPCC National Committee member from Hong Kong.
Leung was elected chief executive of the SAR in 2012. This year, Hong Kong will celebrate the 20th anniversary of its return to the motherland, and a new chief executive will be elected. Leung announced late last year that he would not seek re-election this year due to family reasons.