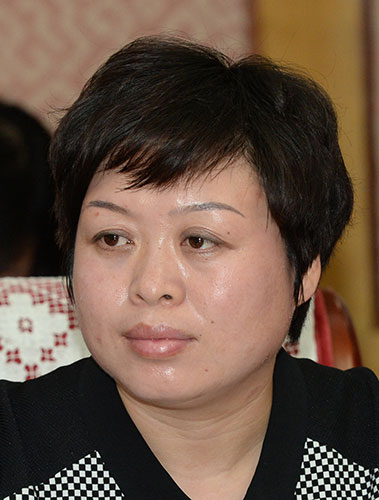 Yuan Jinghua.
Yuan Jinghua's brothers and sisters all got married before they were 20. Yuan, however, didn't get married until she was 25 as many young men were frightened away by her special "dowry": 45 deaf-mute children.
"If they wanted to marry me, they had to accept the 'dowry'," said the woman from Xiajin county, Shandong province, and also a deputy to the National People's Congress. The children were her students she had taught to speak.
After failing the College Entrance Examination in 1992, Yuan saw two deaf-mute girls driven out of a local primary school in tears after they sneaked into the school and looked into the classroom.
Yuan tried to teach them to speak by asking them to feel her vocal cords vibrate and managed to teach them to say "grandma" and "grandpa" after two months. "I was so excited. I asked the pair to speak in front of many villagers," she recalled.
Soon many parents took their deaf-mute children to her. Yuan changed her seven-room home into a school. Desks were used as dining tables at dinnertime and beds at night. She charged each child 60 yuan ($8.70) a year and 20 kilograms of wheat a month for the children's food.
By 1997, the number of students had increased to 45 and Yuan had to set up a thatched hut to accommodate them.
"More children still came and some refused to leave after I told them there was no space. They held the door of the 'classroom' while their parents tried to drag them away," said the 41-year-old.
Yuan also raised pigs to earn money, but it was far from enough.
In 1997, Yuan did something that made others call her a madwoman. She prepared posters reading: "No matter how old you are or how you look, I will marry you as long as you can build a school for the children." Yuan put up the posters in nearby villages.
Her "crazy" action failed to attract attention from men, but it did catch the eye of the local government. The Xiajin county government invested more than 100,000 yuan to help Yuan build a school in 1998. The same year she was elected as a deputy to the Dezhou city people's congress.
Thanks to her kind heart, she got married in 2000. Her husband, a teacher, was persuaded to marry her by his grandmother. "My husband's grandmother said I must be a loyal woman as I treated the deaf-mute children so well," she recalled.
The school, however, still was not large enough to meet the great needs of the deaf-mute children, who continued to come from other provinces. She decided to move the school to Xiajin in 2002.
"The county government gave some support, but I still had to raise about 1 million yuan. I borrowed money from relatives and many of them tried to avoid me because of that," she said.
In 2012, Yuan raised more than 60 million yuan and built a new school that covers more than five hectares. The school is still 10 million yuan in debt, even though it received a lot of social and government support, Yuan said. The school now has about 800 students.
More than 600 students have graduated from her school or transferred to regular schools. Some have graduated from college, said Yuan.
Since Yuan was elected as a deputy in 2003, she has submitted 205 suggestions or motions to the National People's Congress, about two-thirds related to children with disabilities.
"All of them have been well received," she said.