Officials punished for 'black' taxi services
More than 100 officials are being investigated in Heilongjiang province and punished for their involvement in illegal taxi services, the Harbin Commission for Discipline Inspection announced on Monday.
In recent months, an inspection team that also included prosecutors, public security officers and transport officials intensified efforts to crack down on illegal taxi services in Harbin, the provincial capital.
After checking 16,800 cars, the team seized 214 illegal taxis and broke up seven gangs. During the investigation, a series of discipline violations emerged, including abuse of power, taking bribes, regulatory inaction and illegal enforcement.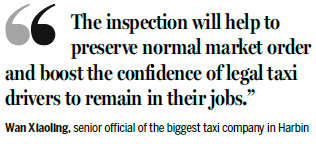 Punishments included warnings, serious warnings, removal from Party posts and expulsion from the Communist Party of China.
Seven cases involving suspected criminal liability were transferred to judicial organs.
Illegal taxis directly harm the interests of citizens and obstruct justice, which has provoked public anger, the commission said in its announcement.
"Illegal taxis, known as black cabs, have greatly affected the normal market order," said Wan Xiaoling, deputy general manager of Heilongjiang Long Win Modern Transportation Co, the biggest taxi company in the city.
"Last night, when we got the news, everyone in our company was delighted with the power and determination of the government."
The company owns about 1,700 taxis, accounting for about one-tenth of the legal operators in the city.
"The number of illegal taxis in Harbin has increased sharply since taxi-hailing apps began to appear at the end of 2013," Wan said. "They have had a grave impact on the incomes of the drivers of legal taxis, as well as our company."
"Black cabs are unsafe for passengers," she added. "Legal taxis have full insurance coverage, while black cabs often only have mandatory insurance, which means passengers would receive much less compensation if they were injured in a road accident while traveling in an illegal taxi."
"The inspection will help to preserve normal market order and boost the confidence of legal taxi drivers to remain in their jobs, so it provides an important public service in the city," Wan said. "We also hope it will become a long-term practice."

Editor's picks