Law experts pleased with country's legal reforms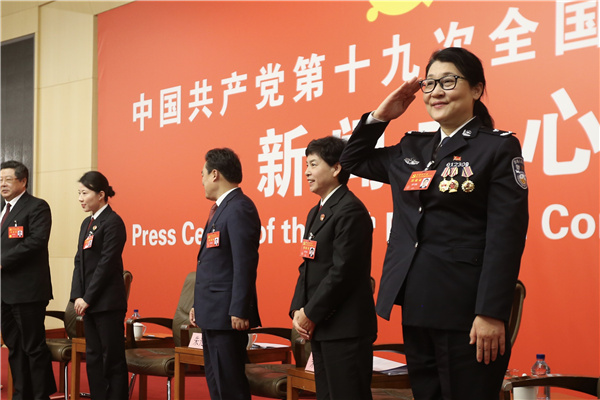 Tian Xuemei, a delegate to the 19th National Congress of the Communist Party of China, salutes journalists after a group interview session on Thursday. Tian serves as a forensic expert in the Ministry of Public Security. [Photo by Feng Yongbin/China Daily]
Delegates to the 19th National Congress of the Communist Party of China who represent the legal sector said on Thursday that construction of a judicial system and related reforms will be accelerated and improved.
General Secretary Xi Jinping said on Wednesday while delivering a report at the congress's opening session that the Party will establish a central leading group for advancing law-based governance in all areas.
The move, with the aim of building the rule of law in the country, is a profound revolution in the country's governance, Xi said.
The plan was applauded by law-related delegates.
"Building legal structures, I believe, will be further accelerated and pushed forward after the congress," said Zhang Sujun, vice-president of the China Law Society.
The group will contribute to establishing a law-based government and also to enhancing legal awareness in public, he said.
"The rule of law will play a bigger and more basic role in the governance of the country and the Party after the congress," he added.
Jiang Bixin, a delegate and vice-president of the Supreme People's Court, considered the group as the most important step for the central leadership to further implement the rule of law.
"If the group is established, it will help us reach more agreements on the rule of law and then integrate more legal efforts across the country," Jiang said. "Meanwhile, the nation can also make policies in line with our judicial building and solve related problems in a timely manner."
Song Yushui, a Beijing judge, said she was happy to see that increasing protection of human rights was in the report. "It is a big demand of people and also a key to fulfill the rule of law."
In the past five years, more than 3,800 criminal defendants were found innocent because of insufficient evidence or unclear facts, which Song considered the best proof of the country's determination to protect human rights.
Xue Jimin, a lawyer from Jiangsu province, said, "Filing a case has not been difficult for people since Chinese courts banned unnecessary barriers to the process through judicial reforms. That also protects human rights in litigation."
He said the country built a national system to protect lawyers' rights at the beginning of this year, and so far 321 attorney associations in 31 regions have pushed forward the system.
In recent years, the country has also issued several rules to regulate the behavior of lawyers, hoping the industry can effectively enforce the rules, according to Xue.
But he added the protection for more than 340,000 attorneys nationwide still needs to be improved, "since the better the environment for lawyers to help people file lawsuits, the more legal services will be given to litigants." He said he is looking forward to seeing more measures to protect lawyers' rights.

Editor's picks