University sets academy to offer intellectual support for the development of PPP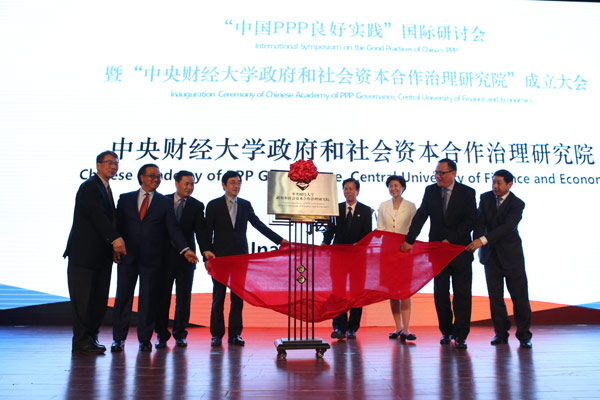 Inauguration ceremony of Chinese Academy of PPP Governance with Central University of Finance and Economics is held at the Central University of Finance and Economics in Beijing on May 18, 2017. [Photo provided to chinadaily.com.cn]
An academy was established to utilize strength from the government, enterprises and scholars to offer intellectual support for the future development of public-private-partnership (PPP) in China.
The inauguration ceremony of the Chinese Academy of PPP Governance with Central University of Finance and Economics (CUFE) was held during an International Symposium on the Good Practices of China's PPP at the university on Thursday.
The academy was established by CUFE in cooperation with the Ministry of Finance and Chinese conglomerate CITIC Group.
"PPP mode has increasingly been an important role in improving China's public governance ability. The academy is a beneficial attempt of using multiple strengths, including government policy support and academic advantages in a bid to give PPP more intellectual support," said Sun Xiaoxia, deputy head of the PPP leading group of the Ministry of Finance.
Fu Shaolin, Chairman of University Council at CUFE, said: "The university's discipline advantage highly matches the integral requirement of PPP's top-level design and good practices."
"I hope the academy will grow to be an open, international think tank with important academic influences. Then it can provide quality and effective intellectual support to our country's PPP reform and governance," said Fu.
The Chinese government has made a series of policies regarding PPP since 2014.
By the end of March, investments worth 14.6 trillion yuan ($2.1 trillion) in total were spent on 12,287 PPP projects in China.
"The Belt and Road Initiative also provides good opportunities for the development of PPP, regional cooperation and connectivity," said Yang Shaolin, Managing Director and World Bank Group Chief Administration Officer.
"The successful experience of China's PPP can be helpful for other countries. World Bank would like to cooperate with other countries and international organizations to support and accelerate the Belt and Road Initiative and China's PPP," Yang said.