Secret banks shut down in Guangdong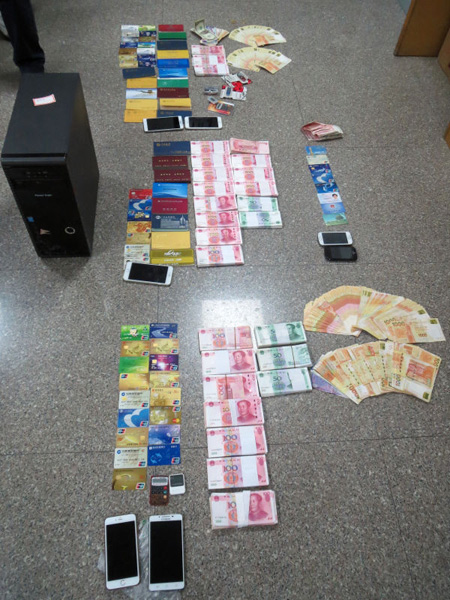 Money and tools involved in illegal underground banks are seized by the Guangdong police department. [Photo Provided To China Daily]
Police in Guangdong province have cracked three major cases involving cross-border transactions through secret, private banks since launching an operation codenamed Jufeng 2, which means Hurricane 2, last month.
The cases involved a total of 33 billion yuan ($4.8 billion) and resulted in the detention of more than 30 suspects, according to Huang Shouying, director of the economic crimes unit with the provincial public security department.
All of the suspects were local residents, Huang said on Tuesday at a news conference in Guangzhou, the provincial capital.
So far, the operation has cracked more than 20 illegal lending and money laundering cases involving more than 46 billion yuan. Police have detained 70 suspects in total.
Huang said Guangdong police will also expand cooperation with counterparts in Hong Kong and Macao to combat underground banks.
"Transactions through underground banks is a serious economic crime that damages China's financial operations and threatens economic security," he said. "Police will continue to spare no effort in the fight against such crimes by expanding cooperation with the People's Bank of China, the State Administration of Foreign Exchange and other relevant departments and organizations."
During the operation, officers seized many bank records, cards, computers, mobile phones and official seals, Huang said, adding that the underground banks usually charge between 0.3 and 0.7 percent per transaction as commission for helping clients send money overseas.
The Jufeng 2 operation covered Guangzhou, Shenzhen, Foshan, Zhuhai and other Pearl River Delta cities.
Huang said the operation has dealt a heavy blow to underground banks and helped ensure financial order in the province, one of China's economic powerhouses.
However, he conceded that fighting such banks is a tough, long-term task, as Guangdong has enjoyed rapid economic growth and has active financial and economic activities.
He said more operations in cooperation with the central bank, the provincial high court and the procuratorate will be launched to combat underground banks this year.