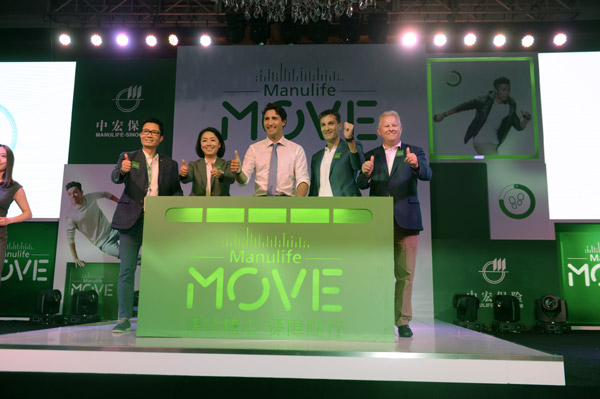 Manulife-Sinochem launches MOVE, an innovative insurance program, in Shanghai on Sept 2. Photo provided for chinadaily.com.cn
A fan of early morning exercise and triathlons, Roy Gori believes that fitness is one of the keys to a happy life. Gori, president and CEO of Manulife Asia, is bringing that same philosophy, combined with a strong focus on innovation, to the insurance sector. Manulife Asia forms part of Manulife Financial Corporation, a leading international financial services group with 20 million customers around the world.
In early September, Gori and Manulife-Sinochem, a joint venture between Manulife and Chinese conglomerate Sinochem, launched MOVE, a pioneering digital fitness and insurance product for Chinese customers. MOVE combines the latest wearable technology and individual fitness data to offer incentives to customers, including free insurance coverage. Users are able to use the MOVE app to trace their daily movement and incentivize themselves to lead more active lives.
Gori said that MOVE could transform the way insurance companies deal with their customers.
"MOVE is all about engagement and interaction. The customer interacts more frequently with their insurer, and they think more about their own fitness and health by using the app regularly," Gori said.
"We believe that MOVE is a real differentiator for Manulife-Sinochem. Customers are engaging with their insurer on a daily basis, which is a huge leap forward from the traditional insurance model — where interactions tend to be years apart, not hours."
The MOVE program, already launched in the Hong Kong and Macao special administrative regions and the Philippines, has been tremendously successful, and Gori said he believes that it will have a similar impact on the Chinese mainland.
"China is one of the most tech-savvy societies in the world. This is a market where real technological innovation is rewarded by smart consumers and users, and we are excited to be part of that success story. MOVE is just the beginning of that process," Gori said.
Manulife-Sinochem is investing significantly in digital products for Chinese consumers. This year, the company launched a WeChat claims service, allowing its customers to submit claims through the instant messaging platform. More than 50,000 customers signed up in the first two weeks of operation and more than 60 percent of WeChat claims are resolved within one working day.
The company's push to digitize is not limited to direct customer interaction. A tool developed for insurance agents, ePOS, which allows transactions to be conducted on tablets and refines the customer's buying experience, has significantly expanded sales — with 92 percent of individual policies sold through agents coming through the ePOS system in the last quarter.
Those expanded sales add to an already significant presence in China and around the region. Operating in 12 markets across Asia with 14,000 staff within those markets, Manulife now sees 80 percent of the group's new business value, 70 percent of the total group's insurance sales and one-third of group's profitability come from Asia.
On the Chinese mainland, Manulife-Sinochem's new business grew by more than 50 percent in the first half of 2016 and has become the insurer's fourth-largest business in Asia in terms of contribution to the group's insurance sales. In the broader Asian market, the first half of 2016 saw new sales grow by 41 percent year-on-year, and new business value increased by 57 percent with core earnings increasing by 16 percent.