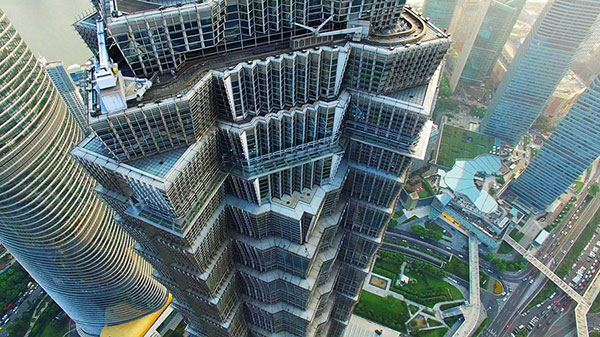 The 88-storied Jinmao Tower in Shanghai, on July 26, 2016. The Jinmao Tower, one of China's tallest buildings-340.6 meters above the ground, will launch a program on Thursday that allows visitors to walk on an open-air glass walkway outside the building's 88th floor. [Photo/VCG]
Shanghai Construction Group, builder of the Shanghai Tower, is now capable of constructing buildings taller than 1,000 meters, sources said.
"Before the building of Shanghai's Jinmao Tower, all the key equipment for high-rise construction was purchased abroad," Gong Jian, chief engineer for Shanghai Construction Group, was quoted as saying by thepaper.cn. "But after undertaking construction of the nation's tallest skyscraper Shanghai Tower, we've made rapid progress in both experience and technology."
According to the company, one of its demonstration projects has recently passed an acceptance check, marking a technological breakthrough for a Chinese company to build high skyscrapers.
"Shanghai Tower is the last piece in the trio of skyscrapers in the Lujiazui's skyline. To construct a 632-meter building with a total gross floor area space of 576,000 square meters, we have relied a lot on state-of-the-art innovative technology," said Xu Zheng, chairman and Party chief of Shanghai Construction Group.
Building a skyscraper requires advanced technology, equipment and materials, and it has an extremely long investment return cycle, which requires the builder to closely follow market demand, Gu Jianping, president of Shanghai Tower Construction and Development Co, said in May.
"The new technology we've achieved will not only enhance China's international competitiveness in building high-rises, but also lay a solid foundation for meeting both domestic and international market demand," Gong said.