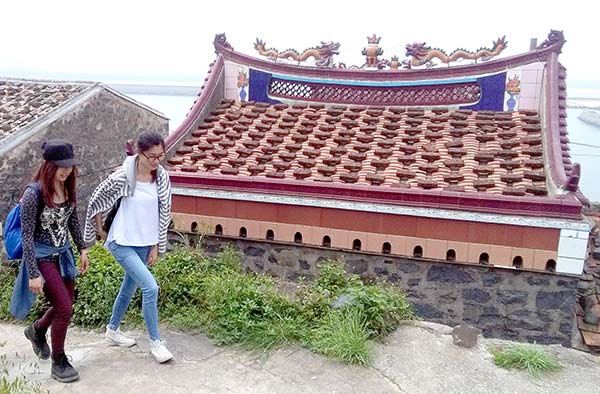 Taiwan backpacker Alice Lin (right) and a colleague visit Pingtan's Beigang village in Fujian province in May.An Baijie / China Daily
When she arrived in Pingtan's Beigang village last year, Taiwan backpacker Alice Lin was obsessed with both the beautiful scenery and the unique stone houses in the coastal countryside.
"While staying here, you can get the real meaning of the famous line from the Chinese poet Haizi: 'Facing the sea, with spring blossoms'," she said.
She was impressed by the fortresslike stone houses. According to the history of Pingtan, residents started building stone houses during the mid-Qing Dynasty (1644-1911).
A veteran backpacker who has walked through 10 countries, including Canada, France, Singapore and Cambodia, Lin has a strong feeling that the houses were precious.
However, villagers seem unaware. As in many other rural places, villagers have migrated to urban areas for better jobs, educations and healthcare, leaving their houses unattended.
Lin believes the stone houses are a precious tourism resource and decided to develop some of them into bed-and-breakfasts.
"In Taiwan, B&Bs are very popular among travelers, especially the young backpackers," she said, adding that her experience of managing a B&B in Taiwan could be useful in Pingtan.
Her idea won support from her brother and four friends, including a designer and a cook.
They contracted for nine stone houses, which are being refurbished as B&Bs, coffee bars and museums.
Taiwan artists will be invited to live there and exhibit their works, she said. Pingtan is the nearest point on the Chinese mainland to Taiwan. It's only two hours from Taipei by high-speed ship.
Lin hopes the village does not become a noisy scenic spot crowded with tourists, like many places on the mainland. Instead, she wants it to be a quiet and clean area in the countryside where travelers could rest and find meaning in their lives.
Lin Shifu, 39, one of the villagers who rented out his stone house, said that he could get about 4,000 yuan ($615) annually.
"My whole family moved to the urban area two years ago, because I worked at a construction site there," he said, adding that he was satisfied with the rent, as well as the refurbishment of his house.
Most of the residents are "left-behind" elderly people, and the B&Bs could offer the elderly some job opportunities such as room cleaning, he said.
Yang Jie in Fuzhou contributed to this story.