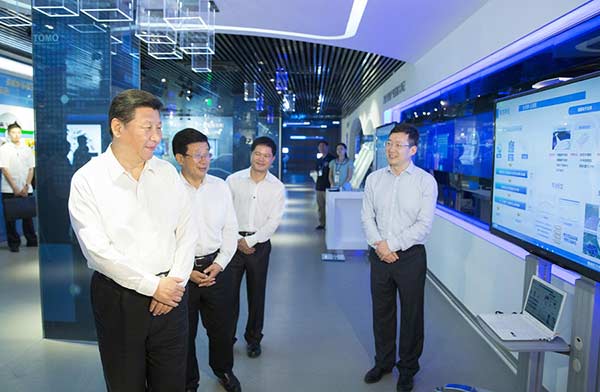 Xi visits Beijing•Guiyang Big Data Application and Exhibition Center in Guiyang, Southwest China's Guizhou province, June 17, 2015. [Photo/Xinhua]
June 17, 2015 - Xi emphasizes big data on Guizhou province tour
Visiting a demonstration center on big data in Guiyang city, Xi stressed the need for more investment and research in this field as China's big data industry is still in its infancy.
"We must try to make a head start as we face the tide of information application. Concrete moves to promote the use of big data are key in deepening its integration with industrialization," he said while talking to entrepreneurs.
Xi talked to heads of companies engaged in building Internet hospitals and affirmed their plans of offering high-end, online health services, which will gather 1,000 top doctors.
He was also shown a miniature 3D-printed drone built by a laser technology company and was told about big data usage in disaster relief operations.