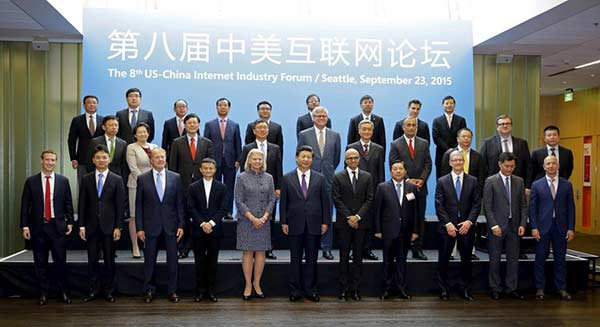 Xi Jinping, front row center, poses with a group of CEOs and other executives at Microsoft's main campus in Redmond, Washington, September 23, 2015. [Photo provided to chinadaily.com.cn]
Sept 23, 2015 - Xi attends US-China Internet Industry Forum in Seattle
Xi met with 28 leaders of Internet companies from China and the United States at the Eighth US-China Internet Industry Forum at Microsoft headquarters in Seattle.
He called for China and the United States, which have important common interests and room for cooperation, to embark on constructive dialogues on cyber security, saying "no one can stay out of this affair".
He also touched on the cyberspace issue in an interview with The Wall Street Journal before his state visit to the US, as well as in a speech at a welcoming dinner in Seattle, where Xi called on all countries to cooperate on cyber security and draw up Internet policies that correspond to their national conditions.