China Daily is publishing a series of reports focusing on efforts that help the country to move forward.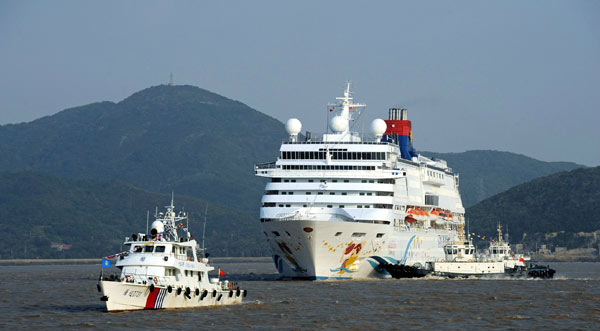 The Star Aquarius from Taiwan approaches the new cruise port at Zhoushan on Oct 13. Photo Provided to China Daily
On Oct 13, the first cruise ship to travel from Keelung Port in Taiwan to Zhoushan docked at the mainland's newest cruise port with more than 1,200 tourists on board.
The maiden cruise to visit the port marked a milestone for Zhoushan as it develops its tourism industry for a new era.
Zhoushan is the first city in Zhejiang province to open an international cruise port, and China's fifth such port after Shanghai, Tianjin, Xiamen and Sanya.
Zhou Jiangyong, mayor of Zhoushan, said the addition will bring the city's tourism industry to a new level.
"Since the city was listed as a national new area focusing on the marine economy in 2013, we have been making efforts to develop marine tourism as part of our economy. With the international cruise port, we finally have a direct transportation line to welcome international tourists," he said.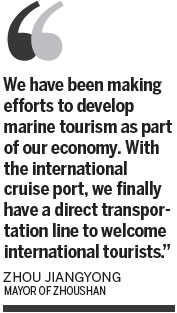 Before construction of the port, overseas tourists could only visit Zhoushan via international airports in nearby cities such as Ningbo, Hangzhou and Shanghai. The city airport serves only domestic routes.
Zhou said Zhoushan has great potential to attract foreign tourists through the cruise port.
"An increasing number of overseas tourists will get to know Zhoushan via cruises that visit the port," he said.
Zhoushan, located on the east of the province, is China's largest archipelago city, with more than 1,300 islands. Its largest island is linked to the mainland by five ocean bridges.
The city is famous in China for its tourist attractions and welcomes more than 40 million visitors a year. However, due to the lack of international transportation stops, Zhoushan only hosts a small number of foreign tourists.
Only 5.3 percent of the visitors to the city from January through October were foreign tourists, according to city officials.
Fu Kaiming, general manager of Zhoushan Archipelago International Cruise Port Co, said he is confident in the market outlook for the port.
"Cruise tourism has been the fastest growing sector of China's tourism industry since 2006, when the country opened its first international cruise port in Shanghai. The number of such ports is largely behind the ever-growing demand," he said.
Fu said cruise tourism is estimated to contribute 51 billion yuan ($8.2 billion) to the domestic economy by 2020, and Zhoushan will account for a significant part of that.
"Zhoushan is in the middle of China's east coast, which makes it easy to travel from there to other main cruise ports in Asia, including Keelung, Busan and Fukuoka," he said.
Fu said his company is in discussion with international cruise companies to provide services to link Zhoushan and these ports.
"We will be seeing more than 200 cruises every year when the port is completely operational," he said.
Once completed, the international cruise port in Zhoushan will be capable of receiving mega cruise vessels of up to 300,000 metric tons displacement. The largest capability of the Shanghai Wusongkou International Cruise Port is 200,000 tons.
"We will be receiving cruises that the Shanghai port cannot handle," Fu said.
Travel agencies have already sensed the shift Zhoushan is about to take with the port.
Luo Tong, manager of the cruise department of Zhejiang Everbright International Travel Co, said the opening of the port will lead to other improvements.
"Infrastructure facility construction at nearby tourism spots will be improved to receive an increasing number of foreign tourists and so will services provided by local travel agencies. We have already designed travel routes to link tourism spots for one-day or two-day stays," she said.
Luo said that since the first cruise ship called at the port, the agency has received calls from business counterparts in Southeast Asian countries to discuss tours via the Zhoushan International Cruise Port.
"Buddhism tourism in Zhoushan attracts believers from that region, especially from Malaysia and the Philippines," she said.
The port is located in the Putuo district of Zhoushan, which is also home to most of the city's tourist attractions.
Within a 15-kilometer radius, tourists can visit Putuo Mountain, one of four mountains sacred to Buddhism in China. It is the country's largest area at which to worship Kwan-yin, also known as Guanyin Bodhisattva.
There is also Zhujiajian island, whose beaches are home to China's sand-sculpture art, and the Shenjiamen fishing port, one the world's three largest natural fishery ports.
Yacht clubs, sea fishing ports and sailboat clubs are all available in the district to attract high-end and international tourists.
Yu Wanjun, deputy district mayor of Putuo, said the district is also developing a low-altitude aviation industry.
"Tourists aboard international cruises will not be disappointed by what we provide here in Zhoushan," he said.