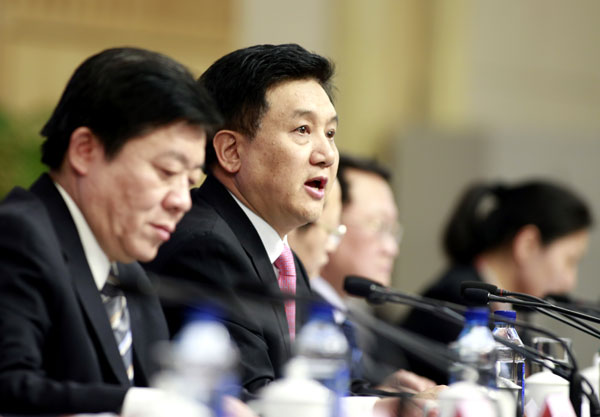 Wu Xiaoqing, vice-minister of environmental protection, answers a reporter's question at a news conference in Beijing on Friday. The first session of the 12th National People's Congress organized the news conference, which focused on China's environmental protection and ecological system construction. [Feng Yongbin / China Daily]

 
Ministry vows stricter standards to improve air quality and environment
About 1,500 monitoring sites releasing daily readings of fine particles will be set up in all prefecture-level cities by the end of 2015, top environmental officials said on Friday.
Wu Xiaoqing, vice-minister of environmental protection, said during a news conference that the target for 2013 is to build more than 440 new monitoring stations in 116 cities.
Fewer than 500 sites were already set up in 74 cities in 2012, giving the public real-time readings of PM2.5 — particulate matter smaller than 2.5 micrometers in diameter that can reach deep into the lungs and bloodstream — as of Jan 1.
Accelerating the construction of air monitoring stations has been among the ministry's top tasks on its to-do list for combating airborne pollution for several years, but the heavy smog and haze that engulfed large areas of the country five times in January has accelerated the process.
"Some large and medium-sized cities continuously encounter smog and haze, in winter and in summer as well," Wu said.
"The situation is especially severe in regions like the Beijing-Tianjin-Hebei area, the Yangtze River Delta and the Pearl River Delta, which are covered by haze for more than 100 days a year. The figure even reaches to more than 200 days in some cities."
Wu said these regions account for only 8 percent of the total land area, yet consume more than 40 percent of the coal and half of the gasoline and diesel, and discharge 30 percent of the country's sulfur dioxide, nitrogen oxide, smoke and dust.
Experts have been calling for local governments within these key regions to jointly prevent and control airborne pollution because pollutants don't stay within administrative boundaries.
Luo Yi, head of the ministry's environmental monitoring department, said another 96 regional monitoring sites will be set up before the end of 2015 at the boundaries of cities and provinces within the key regions, and will show the routes of the airborne pollutants.
Environmental Protection Minister Zhou Shengxian said in January that a working group devoted to improving regional joint protection and control systems will be established, led by the ministry with relevant departments and local governments as members.
Wu attributed the core reasons for the breakout of smog and haze to a concentrated display of environmental problems accumulated during China's decades of rapid industrialization and urbanization rather than the weather.
"The obvious reason may be the bad weather, but the heavy pollution caused by our coal-based energy structure, our rapidly growing motor vehicle ownership, our construction sites that scatter everywhere, and our controlling measures that are far from enough all lead to the result of smog and haze," Wu said.
To change the situation of growingly severe pollution, the vice-minister highlighted several measures the ministry plans to take by 2015.
"We will push State-controlled key enterprises to release information on the pollutants they emit by the end of this year, and implement full control of coal consumption in regions with the most severe pollution," Wu said.
The ministry has also urged emissions from the thermal power, iron and steel, petrochemical, cement, nonferrous metal and chemical industries in 47 cities to reach internationally advanced levels, starting from March 1.
"This has been the toughest measure in the country's history of pollution control," Wu said. "Before that, such special limits have been adopted only within a relatively small region of the Taihu Lake basin."
Contact the writer at wuwencong@chinadaily.com.cn