Four former mayors of Urumqi, capital of the Xinjiang Uygur autonomous region, said improved air quality is the result of efforts by a series of city administrators and requires different measures to deal with the changing sources of pollutants caused by development.
Of the deputies in the Xinjiang delegation at the 12th National People's Congress, four served successively as mayor of Urumqi from 1998 to 2013. One thing they have all been devoted to is solving Urumqi's air pollution problem.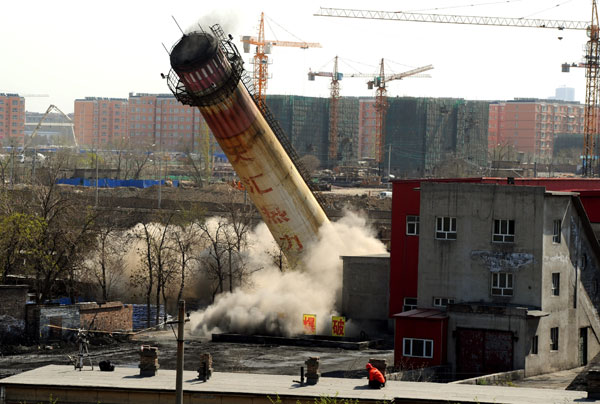 A 30-meter-high chimney of a coal-fired boiler is toppled in Urumqi, capital of the Xinjiang Uygur autonomous region, in April 2012. JIANG WENYAO / XINHUA
Urumqi, which is surrounded by mountains on three sides, was once criticized as one of the worst polluted cities in China when thousands of coal-fired units were operating during the heating season. But this winter, as most cities in northern China are saturated in haze and fog, the residents of Urumqi are enjoying their clearest skies in decades.
"When I launched the Blue Sky program in 1998, the only thing I wanted to do was to stop the pollution from getting worse," said Nur Bekri, chairman of the region and Urumqi mayor from 1998 to 2000.
In 2000, Shoherat Zaker, mayor of the city at the time, realized that the long-term solution for pollution lies in city planning.
"Urumqi has expanded from 700,000 sq km to 1.2 million sq km. Some of the factories causing high levels pollution that we originally built on the outskirts of the city are now in the city center. It's a problem that city planners are constantly facing," he said. He is now a vice-chairman of the Ethnic Affairs Committee of the NPC.
Nayim Yasen, now president of the Xinjiang high court, was appointed mayor in 2006, and over two years he shut down more than 1,600 coal-fired boilers in the city. He also invited experts from the Ministry of Environmental Protection to Urumqi and drafted a plan to fight the city's pollution by replacing coal-fired with natural gas boilers, but the central government didn't approve the plan.
"Also, vehicle exhaust was not a prime source of pollution during my time as mayor, but now it must be dealt with because the number of vehicles has increased to 500,000," Nayim Yasen said.
In 2012, Jirla Yisamutin put Nayim Yasen's plan into action. He launched a 12.1 billion yuan ($1.95 billion) project to replace coal-fired boilers. The program will allow 75 percent of the heating system to be powered by natural gas.
"Residents can feel the changing air quality," said Jirla Yisamutin, who is now vice-chairman of the region after stepping down as mayor this year.
"As for replacing coal-fired boilers, Urumqi achieved in just one year what Beijing did in 10 years," Nur Bekri said. "Any responsible government will pay great attention to the environment during development. The region has listed environmental protection as the important appraisal criterion for local officials."
In a list monitoring the air quality of major cities published by the Ministry of Environmental Protection, Urumqi disappeared from the 10 most polluted cities list for the first time in January. Its PM2.5 level was also among the better half of the list.
"We have never seen so much sunshine during the day, nor so many stars at night," said Yu Ruilin, who has lived in Urumqi for more than 50 years. "Before, after a long walk outside during the winter, you could blow two little coal balls out of your nose.
"Things were the worst when it snowed, because dust and ash would blend with snow, and cover the entire city with black mud." Yu added. "Now, although there are still foggy days, at least the air doesn't smell like smoke anymore, and you can wear a white coat and not worry about it turning black. It's a good start."
The city aims to convert at least 90 percent of its heating system to gas powered by the end of 2015. Meanwhile, the demand for natural gas will grow by 70 percent after the program, which was guaranteed by an increase in supply by the local Tarim oil-and-gas field.
Contact the writers at cuijia@chinadaily.com.cn and weitian@chinadaily.com.cn