China's new leadership should prioritize Europe as an economic partner as it is more open than the United States, said veteran European politician Romano Prodi.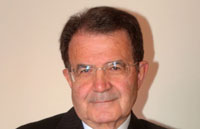 Romano Prodi, former Italian prime minister and European Commission president.
Prodi, a former Italian prime minister and European Commission president, made the suggestion as deputies to the National People's Congress prepare to vote for China's new State leadership.
He said that Europe "must be a top priority" in long-term Chinese policy.
"I think that big Chinese companies need to be global, and for them it will be much easier to be global linking themselves with Europe than with the US. Europe is much more open."
Prodi said Brussels fully recognizes the importance of China in the global economy.
"On the European side, it must be clear that if we want to end this very low growth, China is an indispensable partner," said Prodi.
He added that China is important for Europe to balance its exports and imports.
"So the relationship with China will not only be an instrument for growth, but also an instrument to trigger new vigor in the economic cycle," he said.
He said that Europe is more important than the US because of its openness and willingness to transfer high-tech products to China, though it has yet to lift its arms embargo and give Beijing market-economy status.
"From the political point of view, Europe will be an indispensable balance between China and the United States," said Prodi.
As the Chinese government has encouraged its companies to invest overseas, Prodi said both Beijing and Brussels should make rapid progress in China-EU investment treaty negotiations, which may be launched soon.
"I think that we can do more in this regard," said Prodi.
As China's new president is scheduled to visit Africa this month, Prodi said he would like to bring China and Europe closer to Africa, where he worked as the special envoy of the United Nations secretary-general for the Sahel, the continent's poorest area.
"I am really trying to understand the African economy and I find that China in Africa is more important every day and more decisive," said Prodi.
Prodi said he expected that he could get closer cooperation between China, the UN, Europe and the US in Africa.
"I always repeat that in history, we never had the case, in which countries like China exports goods, people (services), technology, and capital together," said Prodi. "It is new for history. China's responsibility is great in Africa."
Liu Jia in Brussels contributed to this story.
Contact the writer at fujing@chinadaily.com.cn