BEIJING  -- China has created new methods of overseeing the work of the country's top administrative and judicial authorities as part of the innovation drive in the work of the country's supreme legislature, a top legislator said Friday.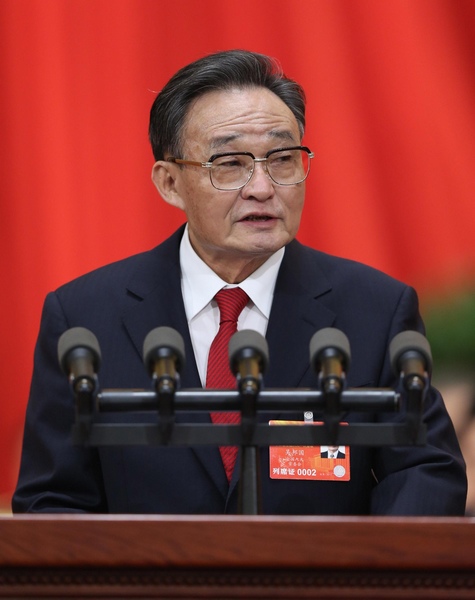 China's top legislator Wu Bangguo delivers a report on the work of the 11th National People's Congress (NPC) Standing Committee at the second plenary meeting of the first session of the 12th NPC at the Great Hall of the People in Beijing, capital of China, March 8, 2013. [Photo/Xinhua]
Inquiries are statutory means by which the National People's Congress (NPC) oversees the State Council, the Supreme People's Court, and the Supreme People's Procuratorate, said Wu Bangguo, chairman of the 11th NPC Standing Committee.
When the Standing Committee listened to and deliberated reports of the State Council, it conducted inquiries on special topics, and invited heads of State Council departments to work with committee members to find solutions, Wu said while delivering a work report of the 11th NPC Standing Committee at the ongoing annual parliamentary session.
An important function and power of the Standing Committee is to oversee central government budgets, according to Wu.
In order to make the oversight more effective, the Standing Committee changed the practice of deliberating the implementation of the current year's central government budget.
Wu said the Standing Committee were more focused on examining the implementation of the budget approved by the NPC and its resolution on it, transfer payments of the central government, and the availability and use of funds for key expenditures.
"We also strengthened our oversight over the implementation of budgets for government-managed funds and state capital operations, and further established a system of incorporating all government revenue and expenditures into government budgets and final accounts," Wu said.
The Standing Committee also tightened its follow-up oversight to help solve important and difficult problems, according to Wu.
Moreover, the Standing Committee put greater emphasis on adopting a variety of oversight methods to carry out repeated investigations to get to the bottom of an issue.
It also integrated oversight with revising and improving laws to give impetus to solving problems and establish a permanent mechanism for this purpose, Wu said.
"Creating new work methods and making the work of the NPC keep up with the times is an inherent requirement for adhering to and improving the system of people's congresses," Wu said.