BEIJING - Chinese Commerce Minister Chen Deming Friday urged politicians and entrepreneurs of the European Union to properly handle the solar panel friction with China to avoid greater losses for both sides.
"We hope to address the dispute through negotiations between Chinese and European companies and boost our industrial cooperation and seek third-party markets," Chen told a press conference on the sidelines of the annual session of the National People's Congress.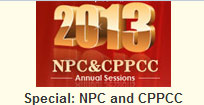 "We are still negotiating a solution and should join our hands to tide through the difficult times for exploring greater market shares," Chen said.
China's latest request for direct consultation between industries came after the EU announced in November that it would investigate alleged state subsidies for Chinese solar panel manufacturers apart from an existing probe into China's allegedly "dumping" such products in European markets.
Chen said the current China-EU trade friction over photovoltaic products stemmed mainly from the debt crisis that cut government subsidies to solar energy use in Europe and was partly stirred up by the anti-dumping and countervailing duties on imports of crystalline silicon photovoltaic cells and modules from China in October 2012 for the next five years.
The US Commerce Department determined to impose up to 249.96 percent in penalty tariffs against solar panel imports from China.
Chen said he was once told by a European official that the US tariff rate against Chinese photovoltaic products "is insane."
The minister said as Chinese solar panel manufacturers are major importers of photovoltaic equipment from both the EU and the US, the current trade friction also hurts European and US companies.
The EU remained China's largest trading partner last year despite a 3.7-percent decline in China-EU bilateral trade to $546.04 billion, followed by China-US trade volume of $484.68 billion, data from the General Administration of Customs showed.
The State Council, or China's cabinet, announced in December a range of measures intended to boost the country's struggling photovoltaic industry, vowing to accelerate structural adjustments and technological improvements in the sector after Chinese companies found difficulty in selling products overseas due to anti-dumping probes initiated by the US and the EU.
Data from the Ministry of Commerce showed that more than 90 percent of Chinese solar products are exported, with 70 percent going to the euro zone and 10 percent to the US market.