Wearing short hair and wrapped in an army suit, her face beaten by the sun, Wen Min expresses her feminine side through her soft voice and dimples as she smiles.
But the 28-year-old from the country's first female unit of the marine corps, who is also a well-known sniper, came to Beijing in March as a new national legislator.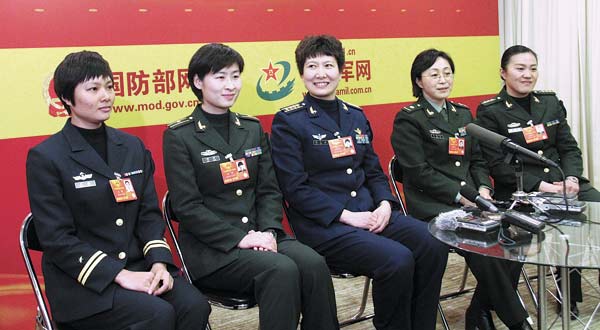 Liu Yang (second from left), China's first female astronaut and an NPC deputy, joins four other military NPC deputies in a group interview on Thursday. [Peng Hongxia for China Daily]
While meeting reporters ahead of Women's Day, Wen recalled her life back at the barracks.
"We compete for the same projects and get tested by the same criteria as our male counterparts," Wen said, adding that "the female soldiers are physically disadvantaged, but we have to overcome these shortcomings."
"We have taken more chances so as to get to know how daring we are, because there are no divisions by gender during battles, but only contests of strength."
There have been reports that when Wen and her female colleagues were run off their feet providing disaster relief in Sichuan province's magnitude-8 earthquake, the children they helped called them "Uncle PLA."
Wen mentioned the reports with a smile, saying that there are colleagues who are more sunburned than her and with shorter hair.
For women her age, it's a pity there have been no beautiful flowers and no entertainment. But Wen said with pride that she and her fellow female soldiers also perform an irreplaceable role: doing the warm-up dance at the New Year's party.
Wen is not the only female PLA deputy to draw media attention. Their identities as female soldiers among 3,000 deputies has brought them the limelight of media attention.
Liu Yang, China's first female astronaut, is chased by reporters for questions whenever she appears in public. The public also cares about whether she plans to have a baby, as it has been reported that the 35-year-old astronaut has postponed pregnancy for her mission.
Talking with reporters on Thursday, Liu said her wishes for the near future are that the country's next airspace project, which is scheduled this year, could be more successful than the one she flew on last year.
As for her personal life, "Yes, I have a plan," Liu said.
Liu Wenli, a leading pilot in China, has made her name not only for her aviation skills but also the fact that the 42-year-old division commander battled cancer for nearly a year before returning to her dream job in the blue sky.
"China cultivates the largest number of female pilots in the world. Now we female pilots dream of flying more advanced fighter planes, and even flying for our country's first aircraft carrier," Liu said.
Li Xianyu, a 49-year-old engineer who pioneered women's roles in missile technology with the Second Artillery Force, which controls both nuclear and conventional missiles, has her own confidence in being an army woman.
"In the previous era, female soldiers were disadvantaged. But now men and women are playing on a level field, and women get many opportunities," Li said.
For instance, women have played very important roles in the missile force, Li said.
While they are now NPC deputies, the army women said they have to widen their knowledge to provide better advice on national issues.
Pilot Liu Wenli said she will provide better advice on the role of female military staff in the army, and also rationally plan their numbers and posts.
"While I am an NPC deputy, I have to learn more rather than just being an astronaut. We have to care more about the whole society, as we shoulder more responsibility as deputies," Liu Yang said.