Southwest China's Chongqing municipality said Wednesday it is being "resolute" in handling a recent sex scandal involving a number of mid-ranking officials.
Meeting international reporters for the first time since he was appointed Party chief of the sprawling city, Sun Zhengcai also stressed that Chongqing is now staying "low-profile and pragmatic", maintaining its political and social stability as well as economic growth.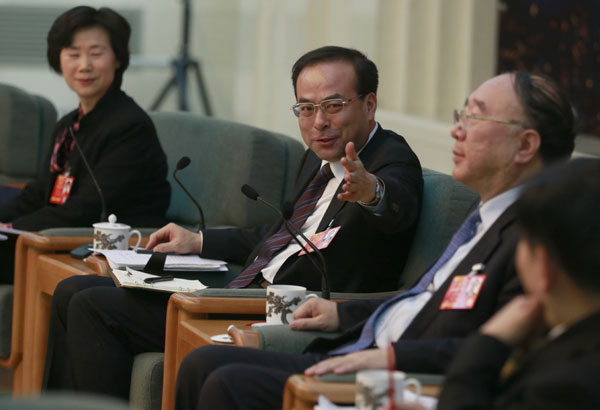 Sun Zhengcai (second from left), Party chief of Chongqing, during a panel discussion of the Chongqing delegation on Wednesday. Feng Yongbin / China Daily
Sun made the remarks during a panel discussion on the sidelines of the annual national legislative session.
The 61-member delegation of Chongqing-based national legislators led by Sun attracted around 170 members of the media from both home and abroad during the discussion, as the city has swirled in a slew of scandals involving decadence of its former leader and high-ranking officials.
The city's former Party chief, Bo Xilai, was sacked last March for serious discipline violations. Investigations also revealed that he bore responsibility in a homicide case involving his wife.
Vice-Premier Zhang Dejiang, who is now one of the country's seven-member top leadership, ran the city in the interim.
Sun took over the post from Zhang last November and became the youngest of the 25 newly elected members of the Political Bureau of the 18th CPC Central Committee. Yet the young political star still has to deal with the aftermath of those scandals.
The latest case involves about 10 officials in Chongqing who have been removed from their posts after a whistle-blower revealed a sex tape.
Chongqing authorities said that a criminal group had tried to bait dozens of officials since 2008 by tempting them with sexual favors.
Asked by reporters about the case, Sun, gigantic in stature but soft in tone with a strong hometown accent, said Chongqing takes a clear-cut attitude and is taking resolute measures.
"We have conducted an in-depth investigation and will handle (the case) in line with the law," Sun said.
Media reports said the officials are still under investigation for other possible violations.