BEIJING - China's chief economic planner said on Wednesday that the country's 7.8-percent economic growth in 2012 should be evaluated "positively" and he is confident about the overall economy in the long run.
"China currently remains in an important period of strategic opportunities... and I am sure the economy will sustain a durable and healthy development," Zhang Ping, head of the National Development and Reform Commission, the top economic planner, told a press conference.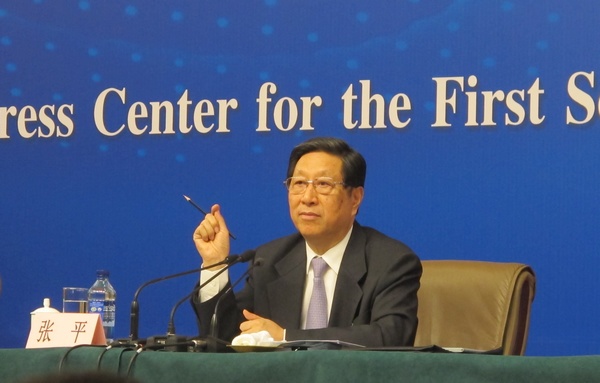 Zhang Ping, minister of the National Development and Reform Commission, answers questions at a press conference of the first session of the 12th National People's Congress (NPC) in Beijing, capital of China, March 6, 2013. [Rong Xiandong / chinadaily.com.cn]
Zhang said the 7.8-percent gross domestic product growth in 2012 should be highly appraised as it exceeded the year-beginning target of 7.5 percent, though it receded from 9.3 percent in 2011.
Meanwhile, the growth was the highest among major economies, and was attained upon the backdrop of the global financial crisis, which had a negative impact on the economy, Zhang noted.
The senior official said China had increased the quality and efficiency of its economy while maintaining a fairly high growth, after decades of fast development had brought a large economic scale.
He further noted that China's economic achievement was made while keeping consumer prices stable and bringing people's income to a new level.
China's consumer prices rose 2.6 percent in 2012, 1.4 percentage points lower than the 4-percent inflation target set at the beginning of the year.
The average income of residents in rural areas rose 10.7 percent in 2012, and 9.6 percent in cities and townships, according to Zhang.
He added, however, that there are still some challenges in developing the economy, "which we must face and overcome through hard work."
Zhang said China is positively advancing industrialization, informatization, urbanization and agricultural modernization, which will offer much room for expanding domestic demand.
Meanwhile, deepening reform will further drive economic development, he predicted.