BEIJING - The Chinese government is projecting a fiscal deficit of 1.2 trillion yuan ($191 billion) for 2013, 400 billion yuan more than the budgeted figure last year, according to a government work report to the national legislature on Tuesday.
The deficit consists of a central government deficit of 850 billion yuan and 350 billion yuan in bonds to be issued on behalf of local governments, said the report.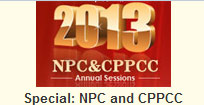 "It is necessary to appropriately increase the deficit and government debt as the time-lag of past structural tax cuts will make it hard for government revenue to grow fast this year, while fixed government expenditures will increase," the report said.
China has a relatively low debt-to-GDP ratio, and the increase in the deficit this year will bring the deficit-to-GDP ratio to about 2 percent, which is overall at a safe level, according to the report.
The increased spending will be used to ensure and improve people's wellbeing and maintain support for economic growth and structural adjustment, it said.