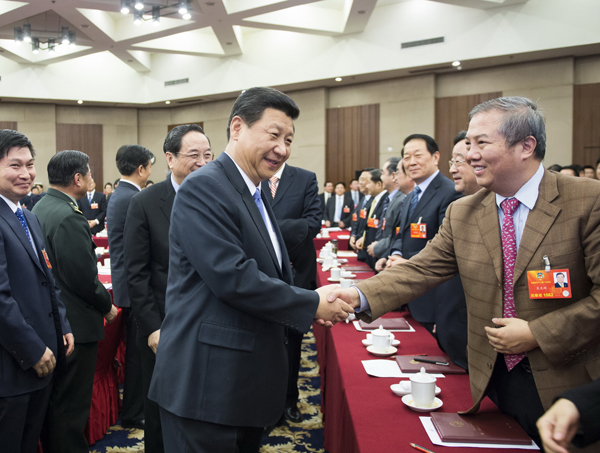 Xi Jinping (L front), general secretary of the Central Committee of the Communist Party of China (CPC) and Chairman of the CPC Central Military Commission, visits members of the 12th National Committee of the Chinese People's Political Consultative Conference (CPPCC) from China Association for Science and Technology as well as science and technology circles and joins their panel discussion in Beijing, capital of China, March 4, 2013. Yu Zhengsheng, a Standing Committee member of the Political Bureau of the CPC Central Committee, who is also the executive chairperson of the presidium of the first session of the 12th CPPCC National Committee, also attended the activity. [Photo/Xinhua] 
Related:
Xi urges innovation-driven growth

BEIJING - Xi Jinping, general secretary of the Communist Party of China (CPC) Central Committee, on Monday urged boosting innovation-powered development in order to make China an economic heavyweight.
Xi made the remarks while participating in a panel discussion with political advisors from the science and technology sector at the ongoing annual session of the Chinese People's Political Consultative Conference (CPPCC) National Committee, the country's top political advisory body.>>